Source: SlashFilm
Published and curated from SlashFilm Read More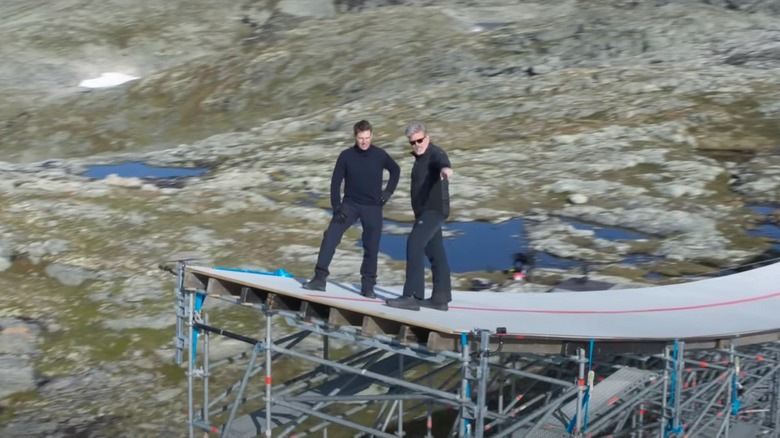 Have you heard the news? It might sound difficult to believe, given all the wildly dangerous stunts he's already done in the franchise, but "Mission: Impossible — Dead Reckoning Part One" will likely become a new record-breaker for the amount of times Tom Cruise attempts to cheat death captured on-camera. Compared to what he's already done during production of the upcoming sequel, instances like scaling the tallest skyscraper in the world, strapping himself outside of a cargo plane in midair, freefalling out of an aircraft from dizzying heights, and holding his breath for a mind-bogglingly long amount of time underwater might as well have been cakewalks.
So it should come as no surprise that this year's "Dead Reckoning" is being described in the loftiest terms possible by other members of the cast. The "Mission: Impossible" series has always been a globetrotting affair, taking Cruise and the rest of the actors making up Ethan Hunt's Impossible Mission Force team to exotic locales and unforgiving environments to film some of the most breathtaking images ever committed to blockbuster filmmaking. But even beyond the scope of the production or the various death-defying stunts on Cruise's wish list — next up will be riding atop a biplane with no visual harness and that highly-publicized motorcycle jump off a ramp and into a base jump — the plot itself will apparently end up making this the "biggest film in the franchise."
That's no small feat, to put it mildly, but actor Cary Elwes isn't backing down from such high praise. Read on for all his thoughts on the scope and scale of "Mission: Impossible — Dead Reckoning Part One."
'I Think That It Will Be The Biggest Film In The Franchise'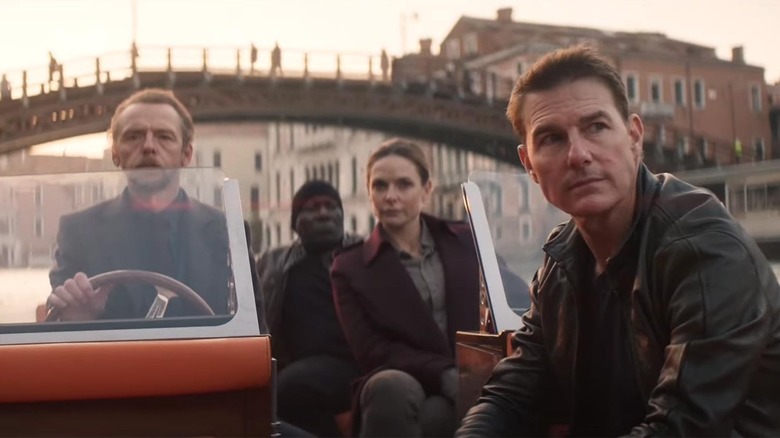 It's one thing to hear Tom Cruise talk about the unprecedented ambition and life-threatening stakes of filming the latest "Mission: Impossible" movie — the man was clearly born without the human instinct for self-preservation. So how about hearing it from his much more normal and relatable cast mates?
"Dead Reckoning" has all the makings of a grand ensemble picture, bringing together a whole host of stars for one big blockbuster extravaganza. That includes newcomers Haley Atwell and Pom Klementieff, returning franchise main players Rebecca Ferguson, Simon Pegg, and Ving Rhames, and even a blast from the past in Henry Czerny, who starred in the original 1996 "Mission: Impossible." But let's not overlook the addition of Cary Elwes, either, who'll be appearing alongside Cruise for the first time in his long and illustrious career.
In the March 2023 issue of Empire Magazine, Elwes opened up about his experience filming on "Dead Reckoning" and working alongside Cruise. "It was the first time that I'd worked with Tom Cruise in 31 years, so that was a nice call to get […] He has this incredible work ethic; he is very focused and hard working, and he expects everybody else to work at that same level." Sounds about right! But as for the film specifically, Elwes had this to say:
"The scale of the picture is extraordinary; I think that it will be the biggest film in the franchise."
Once again, that certainly checks out, given all we know about the film — or its production, rather, given that plot details remain tightly under wraps. We'll likely have to content ourselves with little morsels of information like this until "Dead Reckoning Part One" releases on July 14, 2023.
Read this next: The 18 Best Action Movie Actors Ranked
The post Cary Elwes Says The Scale of Mission: Impossible – Dead Reckoning Part One is 'Extraordinary' appeared first on /Film.