Source: SlashFilm
Published and curated from SlashFilm Read More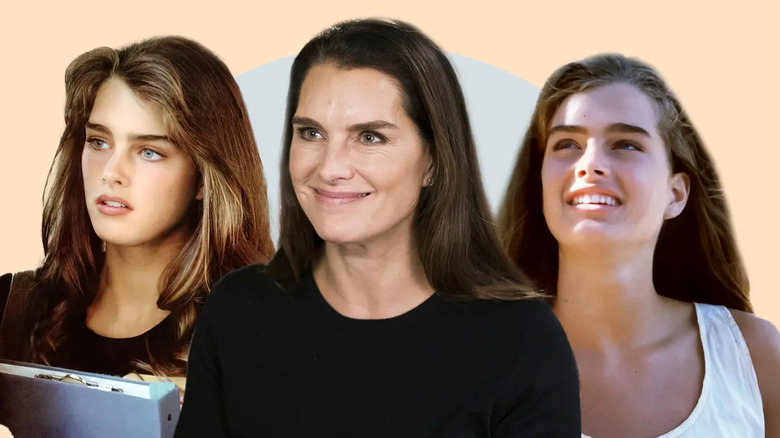 From the moment Brooke Shields was born, she was defined by her looks. "She's the most beautiful child and I'm going to help her with her career," her mother Teri Shields once said, determined to make her young daughter a star (via Emirates Woman). After appearing in an Ivory Soap ad as a baby, Brooke Shields' delicate and striking features catapulted her to fame.
Teri Shields had a paradoxical grip on her daughter, exploiting her as "sexually provocative and exciting while attempting to preserve her innocence" through overprotection (via The Washington Post). This took a psychological toll on Brooke Shields, causing her to question her identity, sexuality, and womanhood for years — worsened when put through the objectifying prism of Hollywood.
Brooke Shields projected one image on screen and another in real life. She was constantly publicized as a naive "good girl," boasting about avoiding the typical teenage exploits of dating, drinking, and drugs. She also was not allowed to hang out with her friends unsupervised. "I get my quote-unquote highs from other things: babies, guitar music, animals," she told reporters, per RogerEbert.com. Hailed as "America's newest sexy kid" by one publication (per New York Post), Brooke Shields participated in films and modeling campaigns that emphasized her combination of innocence and sexuality.
Playboy And Calvin Klein Controversies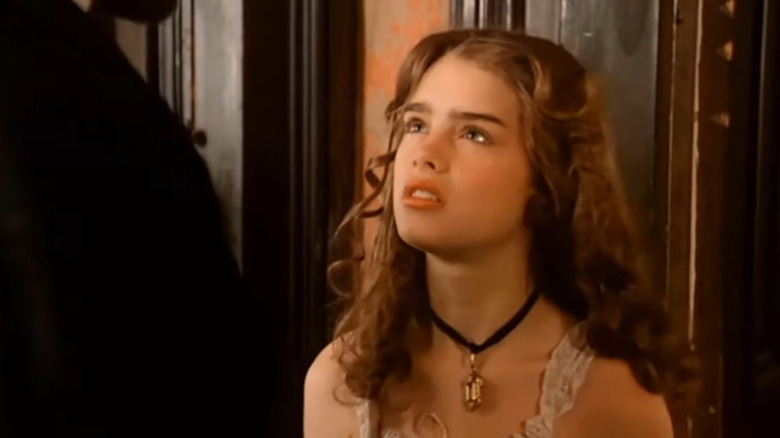 The media's appreciation for Brooke Shields' ethereal beauty quickly turned into the sexual exploitation of a child. One of the many controversies in her career took place when she was just 10 years old and posed for the Playboy publication Sugar and Spice, which specialized in photos of young looking women, or "nymphets." The disturbing images depict Shields, a prepubescent child, naked in a marble bathtub, slick with oil and wearing heavy makeup. She faces the camera with an alluring gaze. It is unfathomable that Brooke Shields' mother and the photographer Garry Gross allowed her to be involved such a perverse picture intended to arouse an adult male audience.
When she was fourteen, Brooke Shields appeared in a banned print and television jeans advertisement where she flirtatiously tells the camera, "You want to know what comes between me and my Calvins? Nothing." Her shirt hangs off of one button, exposing her midriff and barely covering her top. Calvin Klein knew exactly what he was doing when he hand-picked her for the campaign, stating that "Jeans are sex" (per W Magazine). This advertisement boldly asks the audience to think about an underage girl in sexual situations. It is disturbing that such a young girl was chosen to sell an erotic item of clothing. Years later, Shields told Vogue that she had no idea what the double entendre of her line meant, but the adults around her did. They take pleasure in sexualizing a young girl without her knowing it.
As Shields moved from modeling into film, the world continued to view her adolescence through the male gaze. Even though she was a child, male directors painted her as a sexual object because of her attractive looks.
Pretty Baby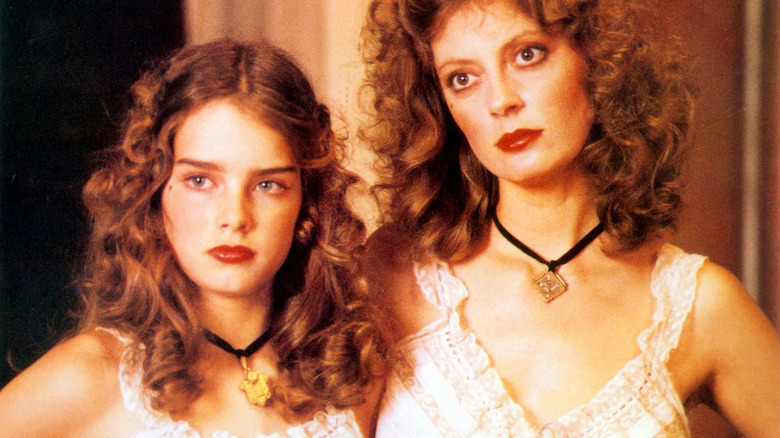 One of Brooke Shields' first film roles was in "Pretty Baby," a 1978 film set in 20th century New Orleans about a preteen sex worker named Violet whose virginity is auctioned off. Director Louis Malle and Teri Shields were criticized for allowing her to be involved in what was labeled "child porn." There are sequences in "Pretty Baby" that no 11 year old should have participated in. 
The young actress had her first kiss with a 29-year-old Keith Carradine, who plays the famous photographer E.J. Bellocq. Bellocq is captivated by Violet's beauty but frustrated with her youth. Violet is understandably confused about her identity when she is forced to be sexual at such a young age while still yearning for childlike play. Bellocq gives her a baby doll, but also takes nude photographs of her. The image is a brief glimpse of Bellocq's snapshot, but nevertheless present in the film. 
"Pretty Baby" does examine the authentic experiences of young girls during a particular time period, but there are ways to tell that story without having an actual little girl kiss an adult man or expose her nude body. Even if Malle was recreating a real-life photograph, underage nudity is not something that should exist permanently on film — especially presented in a sexual manner. These scenes invite older male audiences, such as Newsweek's Ed Dwyer, to desire Brooke Shields' "sinfully blue eyes" and "lean body just starting to curve into womanhood." He disgustingly describes the 11-year-old girl as "a sultry mix of all-American virgin and nascent whore." 
The sight of Violet's small, girlish body wearing the lacy slips and bright lipstick, compared to the other adult female sex workers and her male customers, is enough for the audience to understand the depths of her exploitation.
Blue Lagoon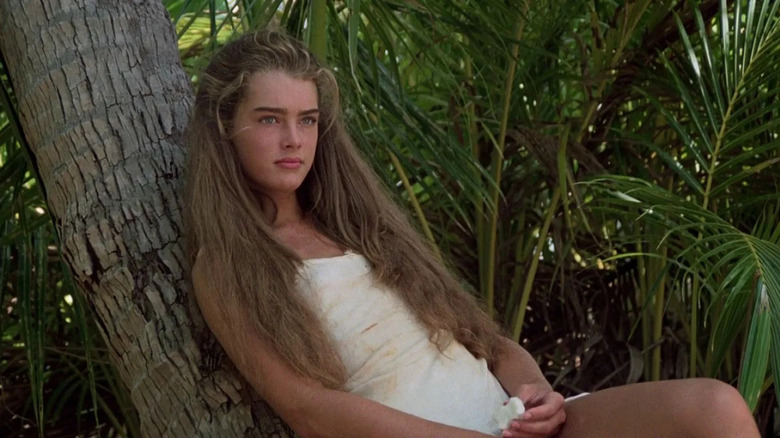 "Blue Lagoon" is the adventure of two cousins who survive a shipwreck in a tropical paradise where they discover their sexuality. For most of the film, Brooke Shields' character Emmeline is without clothes, her long hair covering her breasts. Shields did use a body double for the more provocative shots, such as when Emmeline swims fully nude. Shields even had to testify before the United States Congress that her private parts were always covered during filming because she only 14 at the time. 
Brooke Shields did film love scenes with her 18-year-old co-star Christopher Atkins. There are soft close-ups of their ravenous kissing and tan, naked bodies pressed up against one another. Director Randal Kleiser frames the scenes as curious and passionate, but also exciting because they are literally learning what sex is as they are having it. He turns their primitive innocence into sexual fantasy. "The fact that she doesn't know exactly what sex is is supposed to make you feel better about watching her have it," Abbey Bender writes for RogerEbert.com. 
At the same time, the Hollywood Reporter critiqued the film's depiction of "15-year-old girl who loses her virginity and enjoys every moment of it." Such complaints are never written about teenage male characters, whose virginity loss was often the subject of 1980s films (see "Risky Business" or "Porky's"). Our patriarchal society dictates that young women like Brooke Shields can only be an object for the male gaze, not an active participant in her own desires. The story of Emmeline's sexual discovery is important to represent on screen, but there were ways of filming without having to subject a 14-year-old actress to such blatant nudity and sensual situations with an adult male lead.  
Endless Love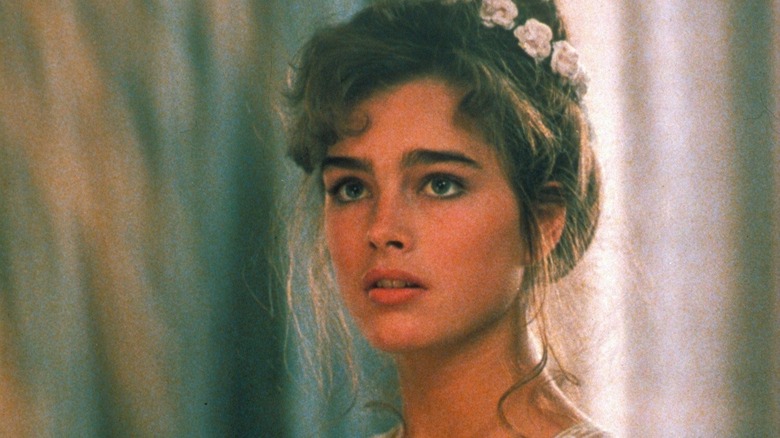 Olivia Hussey and Leonard Whiting, who were 15 and 16 years old at the time of filming, recently sued Paramount Pictures over their nudity in Franco Zeffirelli's 1968 adaptation of "Romeo and Juliet." Zeffirelli included images of their naked bodies even though he promised not to. Although they were playing star-crossed lovers, that is no reason to showcase the unclothed bodies of underage children.
Decades later, Zeffirelli directed "Endless Love" with Brooke Shields, another story of young teenagers falling in love and exploring their newfound sexuality in passionate scenes. In the article "Brooke Shields, Pure and Simple," Zeffirelli fetishizes Brooke Shields' youth and sexual naivete: 
"With Brooke I have a goddess of purity, a 16-year-old virgin, and I say, 'I want to see passion and ecstasy on your face,' and she shrugs her shoulders … She is too innocent, too sweet … And then she won't do the nude scenes, so we have to use a body double. It is frustrating. But she is such a specimen of human beauty. I have never looked at a more perfect thing through a lens. I kept looking for flaws and I couldn't find any."
This nauseating quote shows how Zeffirelli was turned on by the juxtaposition of Shields' personal inexperience and sexual performance, evident in the intimate close-ups of her euphoric expressions during the sex scenes. Shields confesses that on the set of "Endless Love," "[t]he physicality and the exploration of sexuality felt really dangerous to me, and I didn't trust the director to create a safe environment for me" (via Yahoo!). Sex is an important part of teenage life that cinema should explore, but not at the hands of directors like Zeffirelli who repeatedly used their position of power to exploit young people.  
The Real Brooke Shields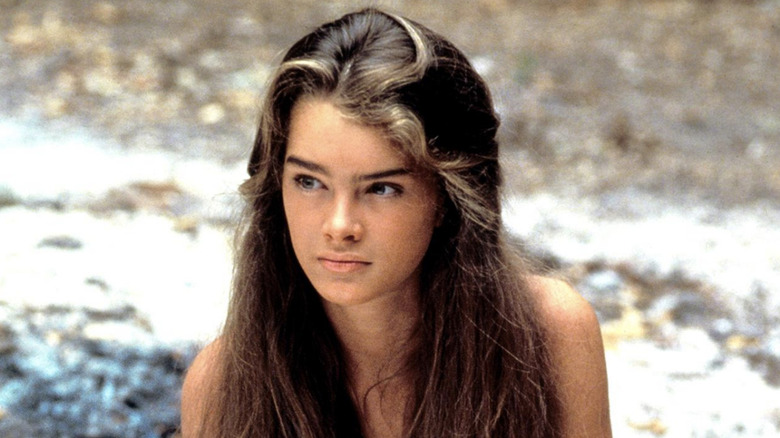 While Brooke Shields was sexualized on film, behind the scenes she was a sheltered, serious girl devoted to her mother, Catholicism, and academic studies. In her book "There Was a Little Girl: The Real Story of My Mother and Me," Shields details how she did not have any genuine sexual experience until her twenties because of her overbearing relationship with her mother: 
"I believe she wanted me to stay hers alone. She believed in an absolute hold she had on me. And she prayed that I would never ever want to breach that bond in any way . . . And growing up, and having sex, would mean that I was leaving her. If I loved (and gave of myself to) another, I was no longer in control. To her, losing control meant I did not love her."
She also feared that having a romantic relationship would destroy her innocent Hollywood image, "because the whole world knew I was a virgin, the whole world would know when I was not." Throughout her entire adolescence, male filmmakers dangled her virginity as a prize for the entire world to lust after. Shields elaborates more in her book how she faced a bizarre inconsistency between her provocative screen image and chaste everyday life, one that damaged her psyche and sexual maturation. It is difficult enough for young women to understand and find confidence in their growing bodies and desires, let alone when projected through cameras for everyone to see. 
Pretty Baby: Brooke Shields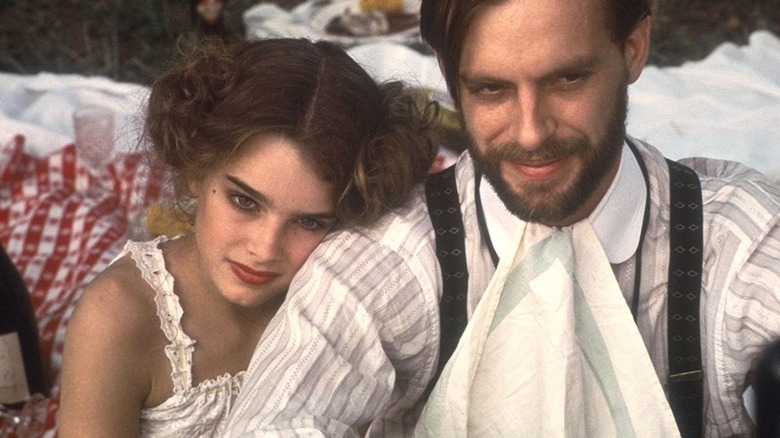 Brooke Shields is taking control of her story in her documentary "Pretty Baby: Brooke Shields." This candid film exposes the toxic Hollywood culture she endured as a child actor. She openly reflects on what it is like to be broadcast as a sex symbol when you are just 10 years old. "Pretty Baby: Brooke Shields" is part of a post-#MeToo movement where child stars are recontextualizing their past experiences in the industry, such as Jennette McCurdy's book "I'm Glad My Mom Died" or Christy Carlson Romano's podcast "Vulnerable." More and more stars are speaking out about exploitative behaviors on set and how to stop them. The development of intimacy coordinators, those who advocate for actors' comfortability during nudity and love scenes, would have helped Brooke Shields in her early films. However, every effort should have been made not to involve an underage child in highly sexualized content.
"Pretty Baby: Brooke Shields" interrogates Hollywood's perverted fascination with female youth and sexual innocence. The films in the beginning of Brooke Shields' career turned her into a sensual figure that male audiences could project their dirty fantasies of deflowering onto. Brooke Shields' story teaches us the importance of seeking more protections for child actors and creating a safe filming environment that does not allow for abusive and misogynistic power dynamics. No release date "Pretty Baby: Brooke Shields" for has been announced, but will premiere on Hulu later in 2023.
Read this next: The 14 Best Film Acting Debuts Of All Time
The post How Hollywood Did Its Best to Destroy Brooke Shields — And What Comes Next appeared first on /Film.