Source: SlashFilm
Published and curated from SlashFilm Read More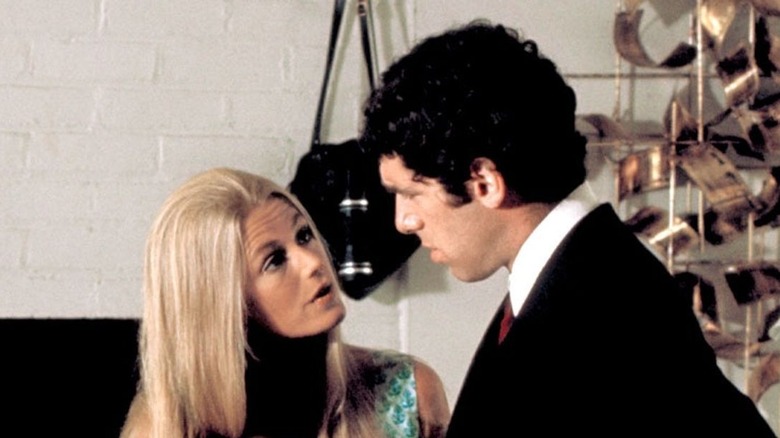 Robert Altman is an undisputed cinematic legend, but even he was afraid to tackle another Hollywood icon's cinematic universe. 
Perhaps the director's most fondly remembered film is his dreamy adaptation of Raymond Chandler's "The Long Goodbye." The 1973 film tells the continuing story of Philip Marlowe, who first appeared onscreen in the 1946 noir "The Big Sleep," memorably played by Humphrey Bogart. Bogart gave the definitive performance of Marlowe before "The Long Goodbye," although there were some lesser-known adaptations of Chandler's stories about the Los Angeles private eye. Altman knew that he had big shoes to fill when he agreed to take his own stab at the beloved character — and it almost made him turn the project down.
"Originally I didn't want to do it," the director confessed (via Cinephilia & Beyond). "I liked those 1940s movies, but I just didn't want to play around with them. I was sent the script by the producers and at first I said, I don't want to do Raymond Chandler. If you say 'Philip Marlowe,' people just think of Humphrey Bogart." 
When it came to casting Marlowe, Altman wasn't sure that anyone would be able to replace or replicate Bogart in the public's mind — even the greats. "Robert Mitchum was being proposed for it," the director revealed. Mitchum had a storied career from '40s noirs like "Out of the Past" to the New Hollywood of the '70s. Still, he wasn't the right fit for Altman's Marlowe, although the actor did eventually portray the P.I. in the 1975 film "Farewell, My Lovely." 
The director was being picky and resistant until finally, someone suggested the perfect man for the role.
Gould Was A God-Send For Altman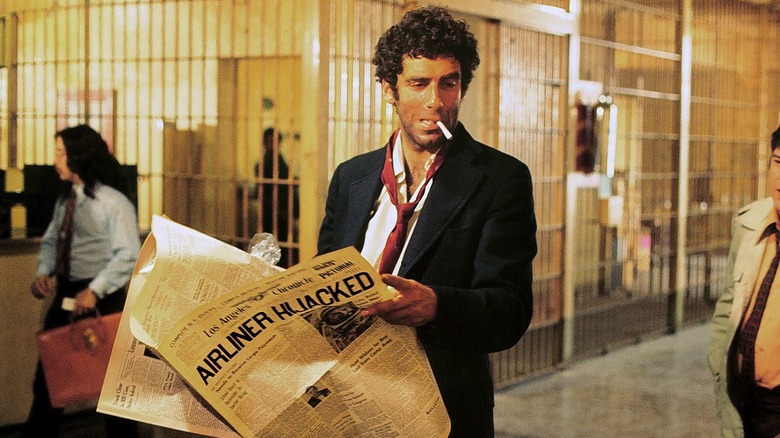 Altman almost passed over "The Long Goodbye" until studio execs proposed the ideal leading man and changed his mind. "I think it was David Picker, the production chief at United Artists, who suggested Elliott Gould for Marlowe," the "M*A*S*H" director recalled, "and then I was interested."
The director agreed to take on Chandler's work, but it would not be a straightforward adaptation. Instead, this would be a satirical interpretation of Bogart's Marlowe. "I decided that we were going to call him Rip Van Marlowe," Altman explained, "as if he'd been asleep for twenty years, had woken up and was wandering through this landscape of the early 1970s, but trying to invoke the morals of a previous era."
Through displacing Marlowe in time, the film could shamelessly echo the Marlowe of the popular imagination while maintaining self-awareness and timeliness, painting the very same character in a totally new light. Altman added: I put him in that dark suit, white shirt and tie, while everyone else was smelling incense and smoking pot and going topless. [E]verything was health food and exercise and cool. So we just satirized that whole time."
The director wasn't under any delusion that he would be able to live up to the Marlowe in the public imagination, so he decided to subvert their expectations on purpose. "It's impossible to defend our Marlowe against other people's ideas of him," he explained to Film Comment. Instead, Altman decided to get ahead of this criticism by establishing just how different his Marlowe would be from the very first scene of the film.
The Twist Ending Set The Tone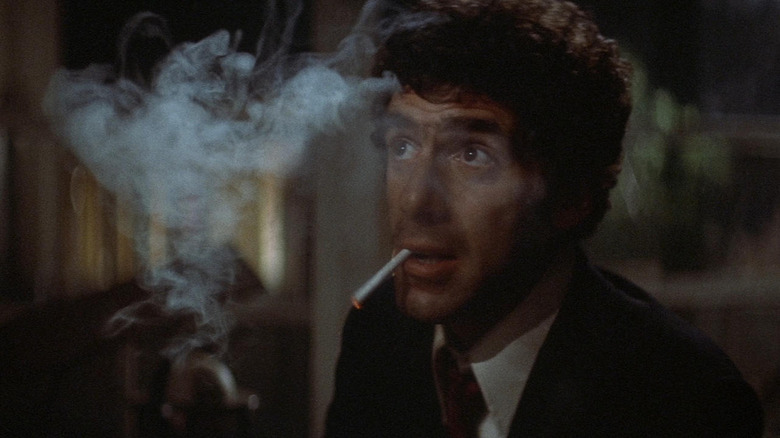 "I think that the most important thing we do in the film is to set up the whole cat sequence at the beginning," the director concluded. "That, I think, tells audiences that this isn't going to be Humphrey Bogart, it isn't going to be broads and fights. It's almost obligatory in this sort of film to open up with some very heavy action; we did just the opposite." 
Where Bogart's Marlowe was defined by attempted heroics, Gould's Marlowe is totally meandering and inactive. "[H]e never performed one action in the whole film, except at the end," Altman pointed out. "Everything else was a reaction." 
Altman's unique approach to "The Long Goodbye" was actually inspired by Leigh Brackett's screenplay. Brackett also penned the script for "The Big Sleep," but had written a twist ending into "The Long Goodbye" that changed everything for Altman.
"[I]n her version, in the last scene, Marlowe pulled out his gun and killed his best friend, Terry Lennox," Altman told Cinephilia & Beyond. "It was so out of character for Marlowe, I said, 'I'll do the picture, but you cannot change that ending! It must be in the contract.' They all agreed, which was very surprising. If she hadn't written that ending, I guarantee I wouldn't have done it. It said, 'This is just a movie.'" 
The director savored this Brechtian moment and enunciated it with a dance number set to Hooray for Hollywood down a treelined path, "like the final scene in 'The Third Man.'" The audience is reminded once and for all that "The Long Goodbye" is just a movie.
A twist ending was just what Altman needed to step out from Bogart's shadow and create Marlowe in his own dream-like image — Rip Van Marlowe.
Read this next: The 30 Most Anticipated Movies Of 2023
The post Humphrey Bogart's Legacy Made Robert Altman Hesitant To Take The Long Goodbye appeared first on /Film.