Source: UPROXX
Published and curated from UPROXX Read More

While paying a little (or a lot) more than MSRP for a great bourbon isn't a bad thing, there are bottles of expensive bourbon out there that you really shouldn't pay a premium for. (Sorry to the brand managers reading this and cringing in apprehension right now.) The fact is that there's a whole world of hype and desire that both drives up prices and creates a market around rare and seemingly rare bourbon whiskeys — leading to prices that might not fit.
I come across a ton of bourbon in my day-to-day life as a professional whiskey critic and I can tell you that expensive bourbons generally fall into two categories:
One side of the coin is super rare bourbons that come with a huge MSRP (manufacturer's suggested retail price). These bottles generally merit a high price from the jump because of the rarity of the whiskey in the bottle.
The other side of the coin is the bottles that have a low MSRP but due to hype and/or the quality of the juice in the bottle, the price is greatly inflated.
I'm going to be focusing on the latter today and naming 20 bottles of bourbon that you really shouldn't be paying that much more than MSRP for. There are two facets to this. One aspect is that paying over MSRP is unnecessary in a lot — but not all — cases if you're simply patient and do some groundwork to find your desired bourbon bottles when they drop. Another aspect is that some of these bottles are priced low for a reason but are only available in tiny corners of the country. It's only demand and hype that inflate prices on these bottles. Sometimes, they simply don't deserve it.
Those bottles are ranked at the bottom of this list. And I've noted which ones fall into this category.
To be clear, a large portion of the bottles on this list are worth buying — they're tasty and I enjoy them! But either you can get nearly the same thing in a different form (brand, expression, etc.) or, again, you should wait and do the work to find them at MSRP, because they are out there. Fear not newbies, I'll note which is which.
Okay, let's dive in and rank some bourbons that you *don't* need to pay above retail for.
Also Read: The Top 5 UPROXX Bourbon Posts Of The Last Six Months
20. Evan Williams Green Label Bourbon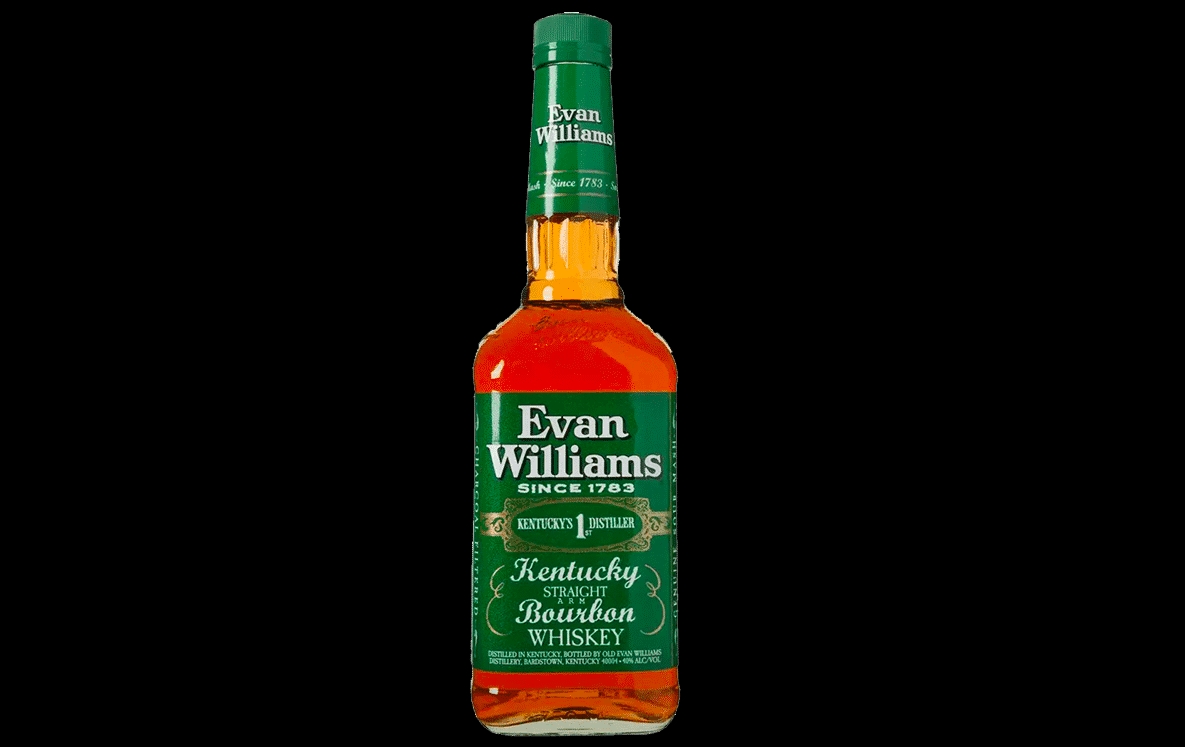 ABV: 40%
Average Price: $75
The Whiskey:
This is Heaven Hill's signature bourbon mash bill with a touch of rye: 78% corn, 12% malted barley, and 10% rye. That mash is the same for their much-beloved Elijah Craig and Henry McKenna labels. This juice is aged for four years before it's proofed all the way down to 40 proof with soft limestone water.
Tasting Notes:
Nose: This is very run-of-the-mill bourbon with clear notes of caramel, vanilla, and oak on the nose with a hint of citrus.
Palate: That citrus starts to feel like orange candy wrappers and maybe a touch of Hawaiian Punch sweetness/fruitiness.
Finish: The caramel and oak slightly pop back in on the super short finish.
Why Not? What Else?
This is an $8 bottle of whiskey that only gets distribution in a couple of regions. However, since Evan Williams has become the ultimate "good" cheap bourbon, any label from the brand has a little heat, especially if you can't get it nationwide.
Full disclosure, this bottle is barely worth it for $10. I have it around for tastings with the bottom shelf stuff but never touch it otherwise. This is a pass as a cheap bottle of booze. Paying anything over $10 is a hard "no."
19. Kentucky Tavern Kentucky Straight Bourbon
ABV: 40%
Average Price: $50
The Whiskey:
Barton 1792 Distillery — part of the Sazerac group of distilleries — is renowned for white labeling, contract distilling, and putting out both amazing and amazingly cheap bourbons. This expression is the bottom rung in bottle form. Barton doesn't disclose the mash bill but it is aged at least four years. Beyond that, it's cut down to 80-proof with plenty of Kentucky limestone water and bottled in plastic.
Tasting Notes:
Nose: Water and plastic are what you get on the nose and on the palate. While the plastic fades away, the wateriness imparts flavors of muted vanilla, banana chip, and maybe a hint of caramel soda.
Palate: The palate is largely the same with a sense of watered-down apple juice, a hint more of that vanilla, some alcohol burn (almost inexplicably), and a touch of chocolate-covered cherries dipped in water.
Finish: None really.
Why Not? What Else?
This is another one of those cheap bottles that's hard to get outside of places like Kentucky. In Kentucky, it's the bottom of the bottom shelf and costs about $8 a bottle. It's barely worth that — please, please don't pay more.
18. Heaven Hill Old Style Bourbon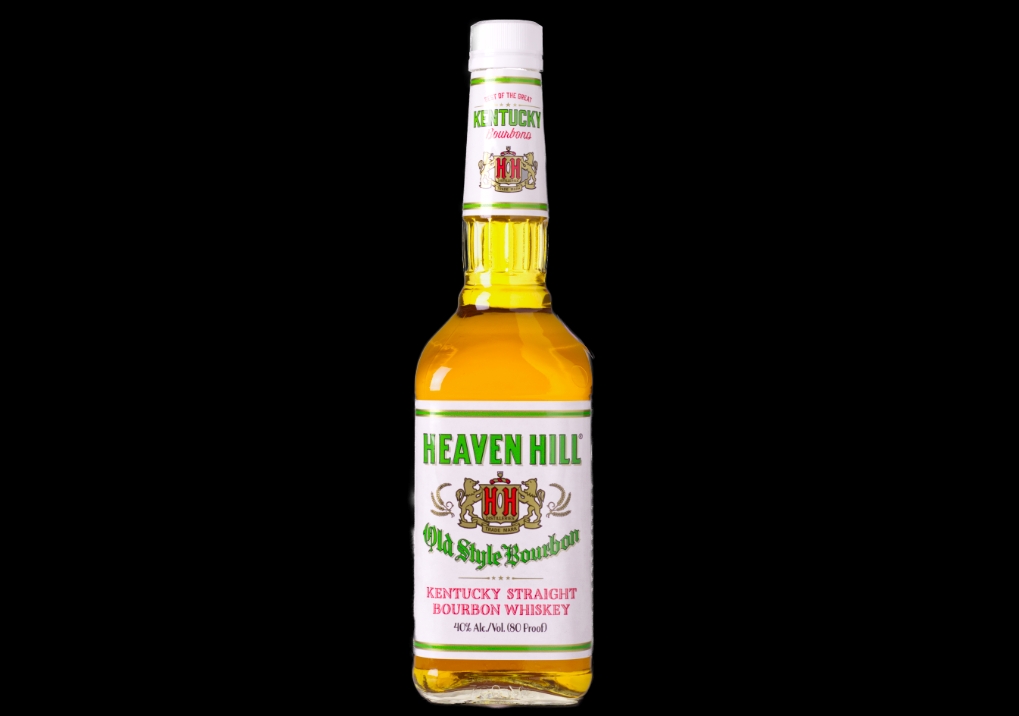 ABV: 40%
Average Price: $99
The Whiskey:
This is Heaven Hill's entry point bourbon The whiskey is matured (for up to four years) in Heaven Hill's massive warehouses and blended to be quaffable at a very affordable price and accessible proof.
Tasting Notes:
Nose: There's a bit of old vanilla husks that are more woody than sweet on the light nose.
Palate: A sense of apple peels, stems, and seeds arrive with a very light spice.
Finish: That lightness is very approachable (after the last sip) while leading towards a note of … banana, I think.
Why Not? What Else?
This actually isn't that bad. It's simple and tastes cheap but it does feel like a real bourbon. If you're mixing highballs, this works perfectly fine.
If you're driving through Kentucky, pick up a handle (1.75-liter bottle for $20). If not, skip paying more and just buy a Jim Beam White Label or Evan Williams Black Label.
17. Benchmark Old No. 8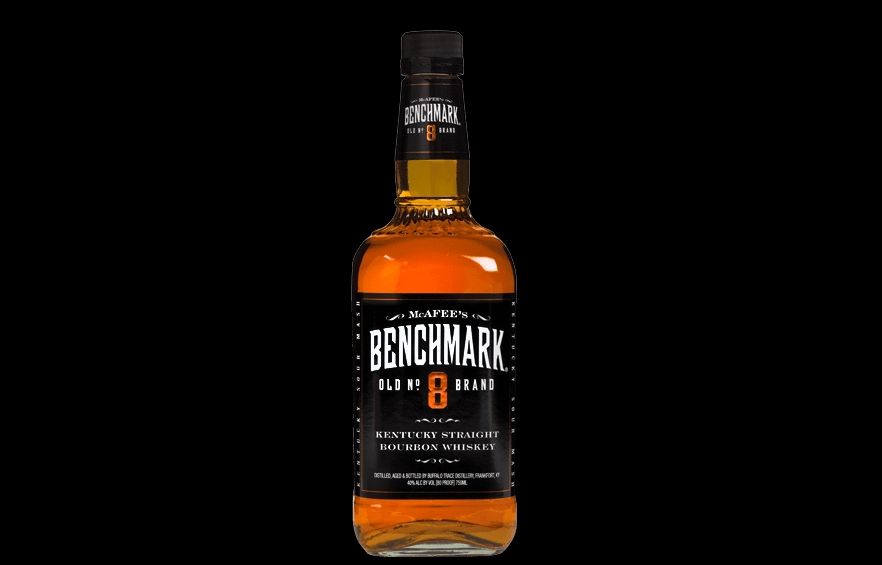 ABV: 40%
Average Price: $24
The Whiskey:
The whiskey in this bottle is from the famed Buffalo Trace Mash no. 1. This is a standard straight bourbon. Once the barrels are vatted, the whiskey is proofed all the way down to 80 proof for bottling.
Tasting Notes:
Nose: Faint lemon candies and honey lead to an old vanilla wafer and wet cornmeal on the nose but not much else.
Palate: The taste is "classic" bourbon with very watery hints of leather, spice, and cornmeal next to vanilla extract, caramel, and old buttered popcorn.
Finish: The end is very faint and almost vodka-like with a tapwater vibe.
Why Not? What Else?
This is cheap bourbon that's from a huge name in the industry. So of course people are going to be seeking it out. But this is a $10 of whiskey that tastes like it costs $10 (it's fine for highballs). Paying any more than that is foolish.
16. Willett Pot Still Reserve Bourbon
ABV: 47%
Average Price: $150
The Whiskey:
This is one of Willet's small-batch bourbons, though this is part of their named line. That means its flavor profile is more nuanced and leans towards the bigger Willett bottles that come next in the line. The actual whiskey in the batch is said to be eight to 10 years old and sourced from around Bardstown.
Tasting Notes:
Nose: This bursts with citrus on the nose with a rush of lemon oils tied to a vanilla cake that gives off a shortbread vibe with toasted sugars, plenty of butter, and spicy wood.
Palate: The palate layers in worn leather and more distinct winter spices (nutmeg, clove, allspice, cinnamon) that lead towards whispers of dried florals, black pepper, and vanilla-laced toffee pudding.
Finish: The finish doesn't overstay its welcome but leaves you with more of that sweet and butter toffee and a dry apple tobacco note.
Why Not? What Else?
This got a lot of heat, thanks to Willett blowing up in the investing and whiskey nerd circles. The dumb bottle design aside (try pouring out this thing, I dare you), the whiskey is only fine. I'd argue it's barely $59 fine (the MSRP of this one).
Paying any more than that is completely unnecessary.
15. Angel's Envy Bourbon Finished in Port Barrels
ABV: 43.3%
Average Price: $69
The Whiskey:
This is a modern classic and helped relaunch the "barrel finished" movement in the U.S. The whiskey is made from sourced bourbon from undisclosed distilleries around Kentucky along with Angel Envy's own-make coming out of Louisville. The whiskey is aged for around six years before it's reloaded into Ruby Port casks (French oak). No more than 12 barrels are then small batched, proofed with local water, and bottled.
Tasting Notes:
Nose: Blackberry jam mixes with salted butter, raw biscuit dough, and a hint of vanilla on the nose with a hint of winter spices and dried fruit.
Palate: The palate has a sweet leathery vibe next to dried fruits, more of that winter spice, and a thin hint of black pepper.
Finish: The finish thins out toward vanilla and peppery spice as the berry jam melds with the leather on the end.
Why Not? What Else?
Angel's Envy benefitted greatly from the current wave of the bourbon resurgence. The Louisville distiller/bottler has been sourcing decent whiskey and has a rabid following. That does inflate prices — and that's fine for their spectacular Cask Strength and Single Barrel expressions.
Standard Angel's Envy, though? Nah, don't pay more than $35/$40 for that. In fact, I'd say skip it (unless you need a decent cocktail bourbon) and just go to their higher-end releases.
14. Weller Special Reserve
ABV: 45%
Average Price: $90
The Whiskey:
Buffalo Trace doesn't publish any of their mash bills. Educated guesses put the wheat percentage of these mash bills at around 16 to 18%, which is pretty average. The age of the barrels on this blend is also unknown as well. Overall, we know this is a classic wheated bourbon, and … that's about it.
Tasting Notes:
Nose: There's a tannic sense of old oak next to sweet cherries, vanilla cookies, and that Buffalo Trace leathery vibe with a hint of spiced tobacco lurking underneath.
Palate: The palate has a creamy texture kind of like malted vanilla ice cream over a hot apple pie cut with brown sugar, butter, cinnamon, and walnuts next to Frosted Raisin Bran with a hint of candied cherry root beer.
Finish: The end takes that sweet cherry and apple and layers it into a light tobacco leaf with a mild sense of old musty barrel warehouses.
Why Not? What Else?
This is a $25 bottle of whiskey and it tastes like it. That said, it tastes really good for that price point. But, cards on the table, we're talking about a mixing whiskey plain and simple.
I pay $30 for my bottles and pick them up from either local liquor stores when they come in or from the Buffalo Trace gift shop when I'm in that neck of the woods. Paying any more than $30 is out of the question.
13. Old Bardstown Estate 101 Bottled Kentucky Straight Bourbon
ABV: 50.5%
Average Price: $129
The Whiskey:
This is a "small batch" Willett bourbon. It's from barrels that are a minimum of four years old (some say as old as ten). Beyond that, not much else is released about the whiskey.
Tasting Notes:
Nose: The whiskey opens with a note of wintry plum pudding next to an oatmeal cookie, a hint of worn leather, and dried mint leaves.
Palate: The palate luxuriates in vanilla-laced pancakes dripping with real maple syrup, a touch of orange zest, and a little more of that leather next to a mild spicy tobacco leaf.
Finish: That tobacco leaf attaches to a woodiness that's almost wet like cordwood as the vanilla smoothes out the finish and leaves you with a smooth menthol tobacco vibe.
Why Not? What Else?
This is fine for what it is, a $35 bottle of bourbon. It's pretty tasty all things considered. But the combination of "Willett" and not widely available jacks up the price in some markets. I'd argue to just wait until you're going to Willett on vacation to get some in Kentucky from any ol' liquor store for $35.
12. Buffalo Trace Bourbon
ABV: 45%
Average Price: $49
The Whiskey:
This is the whiskey that heralded a new era of bourbon in 1999. Famed Master Distiller Elmer T. Lee came out of retirement to create this bourbon to celebrate the renaming of the George T. Stagg distillery to Buffalo Trace when Sazerac bought the joint. The rest, as they say, is history — especially since this has become a touchstone bourbon for the brand.
Tasting Notes:
Nose: Classic notes of vanilla come through next to a dark syrup sweetness, a flourish of fresh mint, and a raw leather that veers towards raw steak.
Palate: The palate cuts through the sweeter notes with plenty of spices — like clove and star anise — next to a hint of tart berries underneath it all.
Finish: The end is long, velvety, and really delivers on the vanilla and spice.
Why Not? What Else?
This is a great mixing bourbon for solid cocktails that should cost $25. Paying double that is unnecessary in that you can just buy two bottles of the same bottle if you're in the right market. For instance, get two when you visit Buffalo Trace Distillery.
11. Elijah Craig Barrel Proof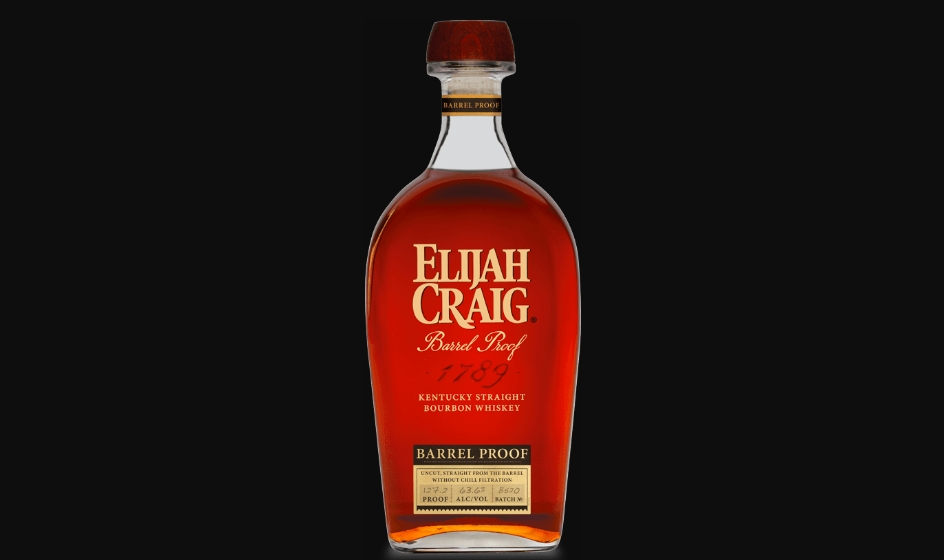 ABV: 62.8%
Average Price: $249
The Whiskey:
Elijah Craig Barrel Proof is hewn from Heaven Hill's classic bourbon mash bill of 78% corn, 12% malted barley, and 10% rye. That hot juice is loaded into charred American oak barrels and left to rest for 12 long years before batching and bottling as-is.
Tasting Notes:
Nose: This has a classic nose that leans towards toasted chocolate beans, dried chili pepper flakes (and maybe even some fresh green chili), burnt vanilla pods, singed cherry bark, and old leather dipped in caramel.
Palate: Bold! The palate opens with a sense of sweet stick toffee pudding (dates, cinnamon, nutmeg, salted caramel sauce) before hitting a high note on the ABVs with a spicy heat that's immediately countered by a rich cherry syrup and caramel sauce.
Finish: Another wave of heat arrives late and ushers in a light sense of old oak staves and cinnamon bark with a mild sense of apple tobacco and maybe some cedar kindling with a fleeting sense of leather and cherry stems.
Why Not? What Else?
This is a bit of an in-between bottle on this list. This is released three times a year and the profile can vary wildly. You might pay a high price and be stuck with a flavor profile that you just don't like. Too bad for you.
My advice is to buy this at MSRP when it comes out. That's only $69. A fair price for standard but very good barrel-proof bourbon from Heaven Hill. At least in that scenario, if the profile isn't spot on for you, it's not the end of the world.
10. Blue Note Juke Joint Uncut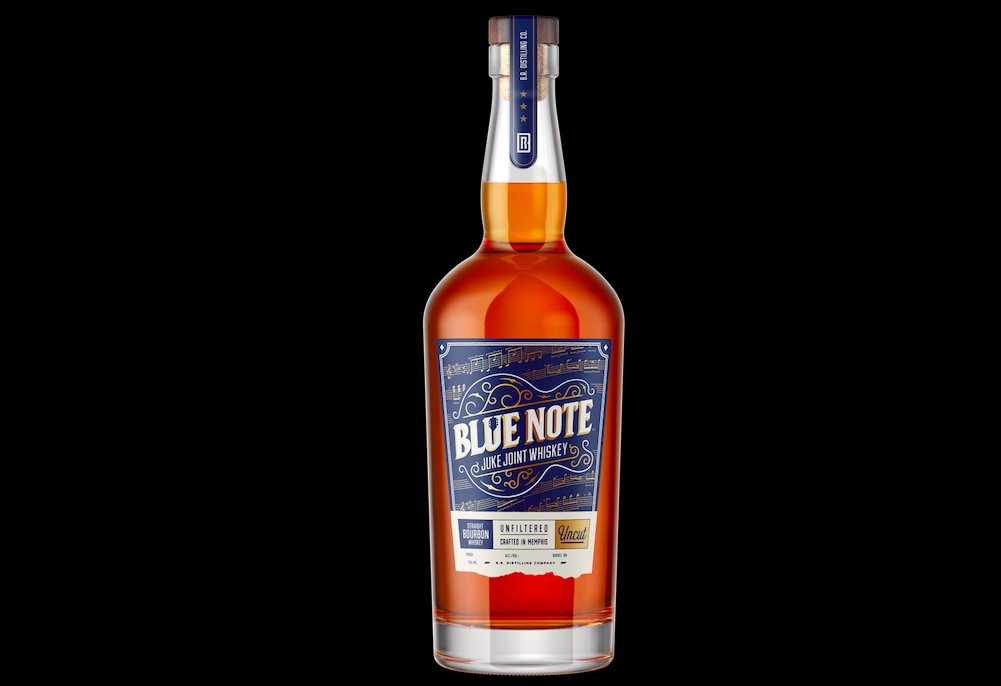 ABV: 62.25%
Average Price: $169
The Whiskey:
This sourced whiskey comes from Kentucky. The juice is a blend of 70% corn, 21% rye, and 9% malted barley whiskey that's aged for up to four years before proofing and bottling.
Tasting Notes:
Nose: This smells like "bourbon" on the nose with hints of caramel, vanilla, oak, and a dollop of maple syrup.
Palate: The palate has a thick winter spice vibe with dusty cinnamon and nutmeg-heavy eggnog with a creamy edge next to vanilla tobacco with a whisper of cedar humidor.
Finish: That spice really amps up toward the finish with a Red Hot tobacco chew and dry wicker finish.
Why Not? What Else?
This is a good whiskey that's won some awards and honestly tastes pretty good. It's a sourced Kentucky whiskey bottled in Memphis, Tennessee which is fine. But paying more than $45 for this (its MSRP) seems unnecessary.
9. Elmer T. Lee Single Barrel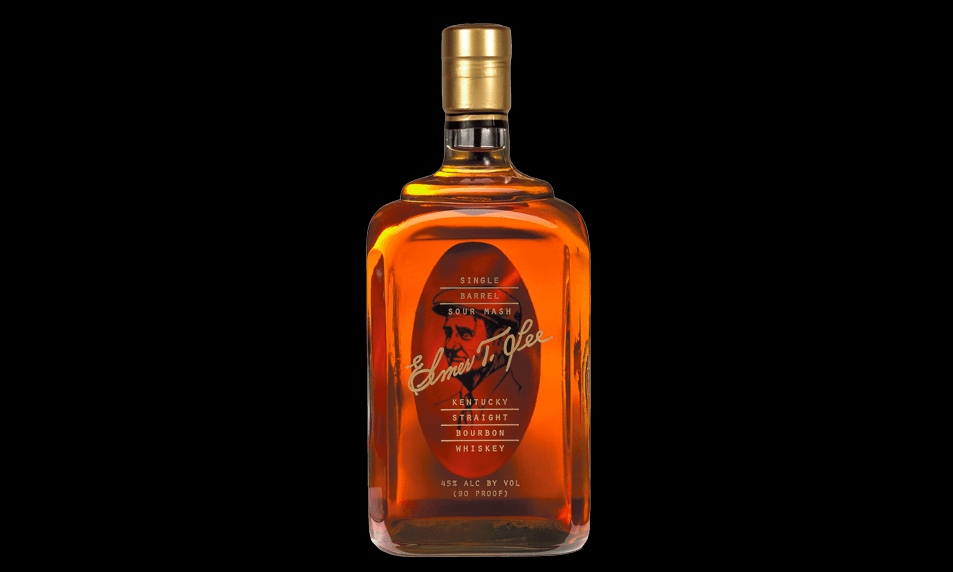 ABV: 45%
Average Price: $379
The Whiskey:
Elmer T. Lee is another hugely popular release that's very limited (and sought after). The mash bill has a higher rye content and the barrels are kept in a special location. It's said that the barrels for Elmer T. Lee are stored where the master distiller himself used to store the barrels he kept for his own stash.
Tasting Notes:
Nose: The nose on this is like a decadent breakfast of pancakes smothered in cinnamon butter, dripping with the best maple syrup, and topped with a hand-made scoop of vanilla ice cream.
Palate: The palate holds onto the vanilla and spice but settles into more of a floral honeyed sweetness with touches of cedar, old library book leather, and a hint of tobacco buzz.
Finish: The end lingers for a while and leaves you with a dry pear tobacco warmth next to a cinnamon heat and maple bar sweetness.
Why Not? What Else?
This is worth searching out. It's a damn fine single-barrel product from Buffalo Trace. It's also only $40 at MSRP. I could see paying $100 for this, it's truly good. But anything more than that is too much.
The best-case scenario is finding this in Kentucky (or Ohio even) when it's released for $50/$60 a bottle.
8. Four Roses Limited Edition Small Batch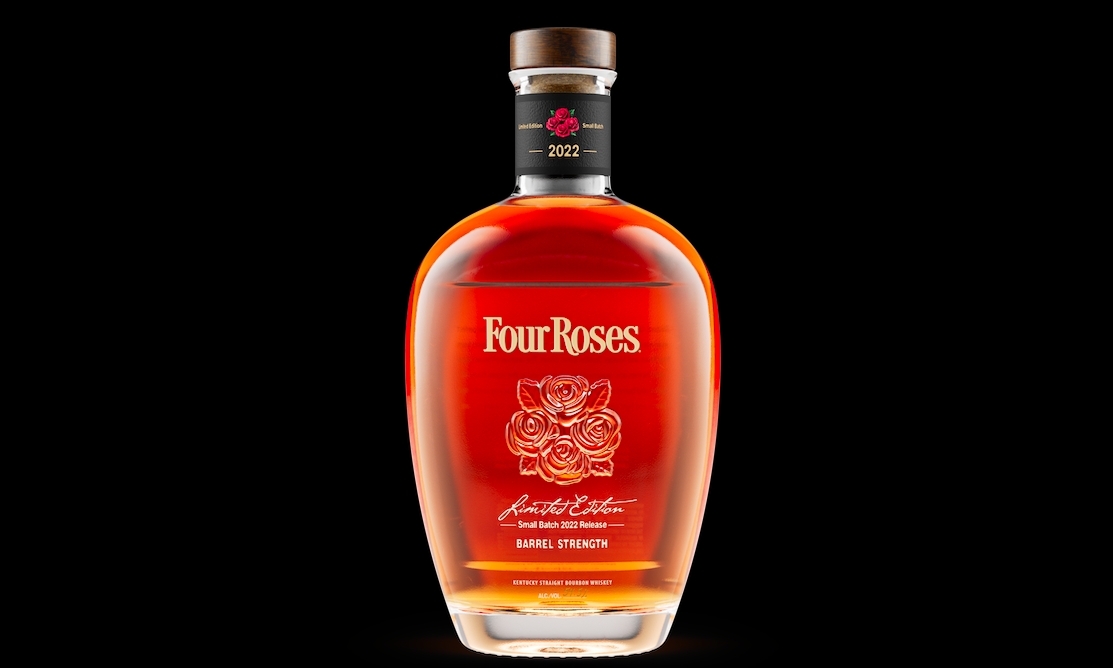 ABV: 54.5%
Average Price: $779
The Whiskey:
This year's LE Small Batch is made from a blend of 20-year-old Bourbon from the OBSV recipe (high rye, delicate fruit yeast), a 15-year-old OESK (lower rye, slight spice yeast), a 14-year-old OESF (lower rye, herbal notes years), and a 14-year-old OESV (lower rye, delicate fruit yeast). The blend is non-chill filtered and bottled at 109 proof. There are only 14,100 bottles this year.
Tasting Notes:
Nose: The nose is soft and feels aged yet fresh with mild notes of old cellar beams that lead to a sour cherry next to sourdough pancakes smothered in butter and maple syrup with a thin line of spiced cherry jam next to a bit of crumpled-up old leather gloves.
Palate: The palate opens creamy with a vanilla underbelly that's countered by a whisper of barnyard funk and old barn floorboards before a chewy spiced cherry tobacco leaf kicks in with layers of nutmeg, clove, and allspice with a creamy eggnog vibe and a hint of Kentucky hug warmth.
Finish: The mid-palate gets a little warmed before diving back toward the spicy cherry tobacco and a finish that's full of creamy brown sugar butter and hazelnut shells.
Why Not? What Else?
This is available once a year via lottery for $179. That's when you should buy it. If you lose, wait until next year. If you can't wait, get a Four Roses Small Batch Select. It's delicious, widely available, and around $50.
7. Colonel E.H. Taylor, Jr. Small Batch Bottled In Bond
ABV: 50%
Average Price: $139
The Whiskey:
Buffalo Trace's Colonel E.H. Taylor, Jr. Small Batch is an entry point to the other 12 expressions released under the E.H. Taylor, Jr. label. The whiskey is a blend of barrels that meet the exact right flavor profiles Buffalo Trace's blenders are looking for in a classic bottled-in-bond bourbon for Taylor.
Tasting Notes:
Nose: The nose opens with a sense of soft corn mush with maple syrup, Saigon cinnamon (a little sweet), orchard tree bark, and the black mildew that grows on all the whiskey warehouses in Kentucky.
Palate: The palate leans into buttery toffee with a twinge of black licorice next to cinnamon-spiced dark chocolate tobacco and a hint of huckleberry pie with vanilla ice cream.
Finish: The end has a salted caramel sweetness that leads back to a hint of sweet cinnamon and dark tobacco with a light sense of the fermentation room with a hint of sweet gruel.
Why Not? What Else?
This is a really good whiskey … for $40. There are other E.H. Taylor's (the Single Barrel and Barrel Proof for instance) that merit special pricing and hunting down. This is entry-level and should be treated as such. It's delicious, don't get me wrong. But it makes a better Manhattan than a refined sipper.
6. Henry McKenna Single Barrel Bottled In Bond Aged 10 Years
ABV: 50%
Average Price: $129
The Whiskey:
This very affordable offering from Heaven Hill is hard to beat at its price. The juice utilizes a touch of rye in the mash bill and is then aged for ten long years in a bonded rickhouse. The best barrels are chosen by hand and the whiskey is bottled with just a touch of water to bring it down to bottled-in-bond proof.
Tasting Notes:
Nose: The nose opens slightly tannic with rich orange zest and vanilla cream next to woody winter spice, fresh mint, and wet cedar with a hint of gingerbread and burnt cherry.
Palate: The palate hits on soft vanilla white cake with a salted caramel drizzle and burnt orange zest vibe next to apple/pear tobacco leaves dipped in toffee and almond.
Finish: The end has a sour cherry sensation that leads to wintery woody spices, cedar bark, and old cellar beams with a lush vanilla pod and cherry stem finish.
Why Not? What Else?
This whiskey gets a lot of hype. It's perfectly good bourbon. It makes great cocktails. It works as an easy on the rocks sipper too. But it's not magic. It's just a really good $60 bourbon.
5. Weller Antique 107
ABV: 53.5%
Average Price: $250
The Whiskey:
This is a non-age-statement bourbon that's called "Old Weller Antique" (OWA) by those who love the old-school vibes of the expression's previous iteration. The ripple with this expression is the higher proof. The barrels are vatted and barely proofed down to 107 proof before bottling (the entry proof is 114).
Tasting Notes:
Nose: The nose opens with a lovely sense of vanilla pods and orange blossom with a hint of old saddle leather and cedar bark next to wild sage, cinnamon and caramel apple fritters, and salted black licorice with a bundle of holiday spices and barks tied up with burnt orange and pine.
Palate: The palate is lush with a cream soda float with malted vanilla ice cream cut with cherries, dark chocolate chips, and espresso flakes next to cinnamon cherry bark tobacco on the mid-palate.
Finish: The end dives toward a thick braid of cedar bark, sage, and blackberry tobacco with a thin line of sweetgrass and vanilla pods woven in there.
Why Not? What Else?
I love mixing cocktails with this whiskey. And that's what it's made for really. This is a $50 bottle of really good bourbon that got caught up on the Weller/Pappy/Buffalo Trace hype machine.
All of that aside, you can also still find this on shelves on the right day for its MSRP. The extra means that you shouldn't be paying a premium for it. Patience pays off with this one.
4. Old Forester Single Barrel Bourbon
ABV: 65.35%
Average Price: $390
The Whisky:
This is classic Old Forester from a single barrel that's not cut with any water. When you find these, they'll generally be a pick from a retailer or bar program. That means they'll vary slightly, depending on what the person picking the barrel was looking for. Still, there's a consistency of "Old Forester" running through them all. In this case, this was a barrel pick for Kroger.
Tasting Note:
Nose: There's a clear sense of dark fruit, especially cherry, that becomes stewed with dark winter spices on the nose with a good dose of dry tobacco in an old cedar box that's wrapped up in old leather.
Palate: A hint of old dry roses sneaks in on the palate as those spices and syrupy cherry and berries intensify and attach to the chewy tobacco.
Finish: The mid-palate sweetens with an almost rose-water marzipan vibe as the cherry tobacco dried out pretty significantly, leaving you with a sense of pitchy pine sap and your grandparent's old tobacco pipe that's still hot to touch.
Why Not? What Else?
These are always really, really good. Brown-Forman rarely misses. But, these are generally available on the shelf for $79 to $129 in the stores they go to (Kroger's, Total Wine, Liquor Barn, Binny's, Spec's, etc.).
If you see a single barrel pick for Old Forester on your local liquor store or grocery store shelf for under $100, buy two — if they'll let you. They're the perfect in-store barrel pick bottle for around $100, nothing more.
3. Blanton's Single Barrel
ABV: 46.5%
Average Price: $189
The Whiskey:
Buffalo Trace's Blanton Single Barrel is made up of hand-selected single barrels that meet the sky-high standards of former Master Distiller Elmer T. Lee, who created the expression back in 1984.
Tasting Notes:
Nose: There's a clear sense of Christmas spices right away, leaning towards honey spiked with vanilla and an old cedar cigar humidor.
Palate: The taste holds onto the spice, especially nutmeg, as caramel kettle corn, more fresh honey, fresh red berries, and vanilla husks dominate the palate.
Finish: The end doesn't overstay its welcome as hints of eggnog spice, dry vanilla, and popped corn surface on the fade.
Why Not? What Else?
Okay, now we're getting into the big ones. Don't pay more than $69-$79 for a bottle of Blanton's. Sign up for newsletters, join liquor store membership programs, and take the time to learn release dates. This is a great bourbon for 70-odd bucks. Beyond that, it's just hype.
2. Eagle Rare 17-Year BTAC 2022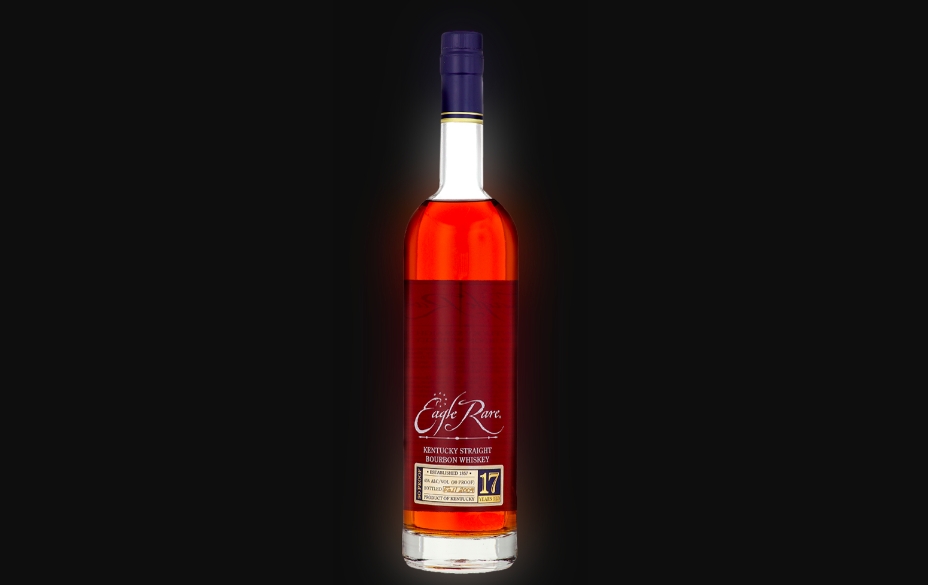 ABV: 50.5%
Average Price: $1,989
The Whiskey:
Back in the spring of 2005, a humble bourbon was made with Kentucky distiller's corn, Minnesota rye, and North Dakota barley. That hot juice was then filled into new white oak from Independent Stave from Missouri with a #4 char level (55 seconds) and stacked in Buffalo Trace's warehouses H, K, and L on floors one and four. It was left alone for 17 years, which allowed 70% of the whiskey to be lost to the angels. In 2022, the barrels were batched and the bourbon was proofed down to 101 proof and was bottled as-is.
Tasting Notes:
Nose: The nose subtly draws you in with soft pipe tobacco that feels fresh and vibrant next to dried sour cherries dipped in salted dark chocolate and rolled in vanilla seeds and vanilla-laced streusel with a good dose of woody maple syrup with this fleeting hint of red brick, moldy cellar beams, and soft and sandy cellar dirt floor.
Palate: Old maple trees dripping with sap lead to a rich salted caramel candy vibe next to rich vanilla pound cake topped with a creamy dark chocolate frosting and bespeckled with orange zest, dried cranberries bits, and crushed espresso beans.
Finish: The mid-palate takes on a woody spiciness with a whisper of apple bark that informs a spiced Christmas cake full of soft cinnamon, allspice, nutmeg, mace, and maybe some anise and dried dark fruits with creamy eggnog baseline next to old Whether's Originals wrapped up in dry tobacco leaves and stacked in a musty pine box for safekeeping.
Why Not? What Else?
This is a $99 bottle of whiskey. The hype around this is so massive that you'll be lucky to find it for $2,000. That's a shame because it's delicious.
But do you know what else is delicious? Eagle Rare 10. It also only costs $50. Just get an Eagle 10. Hell, buy a case of 12 for $600. That's one a month for the next year and you've still saved about $1,400 leftover, in the best-case scenario.
1. Willett 22-Year-Old Family Estate
ABV: 69.1%
Average Price: $15,163
The Whiskey
This ultra-rare Willet release is from their old Bardstown distillery-sourced stocks. It's bottled completely as-is from a single barrel.
Tasting Notes:
Nose: Dark and almost smoky notes of singed vanilla pods and espresso beans lead to dark cherry bark and cinnamon sticks soaked in mulled wine with a dash of worn boot leather and dusty cellar oak.
Palate: There's a cherries sweetness on the front of the palate with an old angel food cake vibe next to walnut shells and waxy cacao nibs.
Finish: The mid-palate explodes with ABV heat and a sharp and spicy tobacco buzz next to cherry bark and applewood was thrown into an old smoker and hit with rum raisin, burnt toffee, and campfire-burnt oranges dipped in dark chocolate all leading back to that heavy ABV heat.
Why Not? What Else?
This is obviously a huge collectible bourbon at this price. And as an investment, it makes sense how it's priced.
But if you go to Heaven Hill on the right day, you can get an Elijah Craig 23-Year-Old Single Barrel bottle for $400. Hint, hint.