Source: SlashFilm
Published and curated from SlashFilm Read More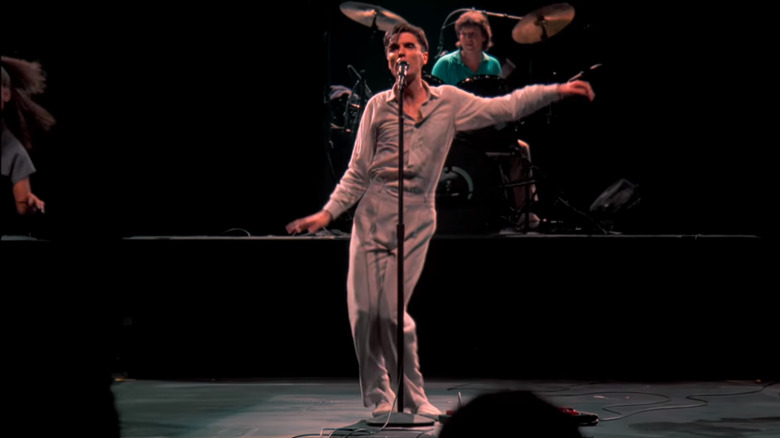 There are concert films, and then there's Jonathan Demme's "Stop Making Sense," incorporating footage from the final shows of Talking Heads' 1983 "Speaking in Tongues" tour. There are only a handful of concert documentaries that even come close to the intense brilliance of "Stop Making Sense," among them Martin Scorsese's "The Last Waltz," Saul Swimmer's "The Concert for Bangladesh," and Spike Lee's "David Byrne's American Utopia." (Clearly Byrne, the former lead singer of the now-defunct Talking Heads, knows how to put on a show!) Now, 40 years after the concert and 39 years after the film released, A24 will be bringing "Stop Making Sense" back to theaters with a glorious 4K restoration, which is just about the best news for music fans because it's the ultimate concert movie.
"Stop Making Sense" takes the concert experience and gives audiences a closer look at the performances without ever showing the behind-the-scenes magic that makes those performances come alive. While many concert docs focus on personal turmoil in the band ("The Last Waltz") or the performer's personal history (Beyoncé's "Homecoming"), there aren't any voice-overs, interviews, or asides in "Stop Making Sense." It's the full story of Talking Heads told through their performance and only their performance, and it's a terrific work of art.
This Is Not My Beautiful House!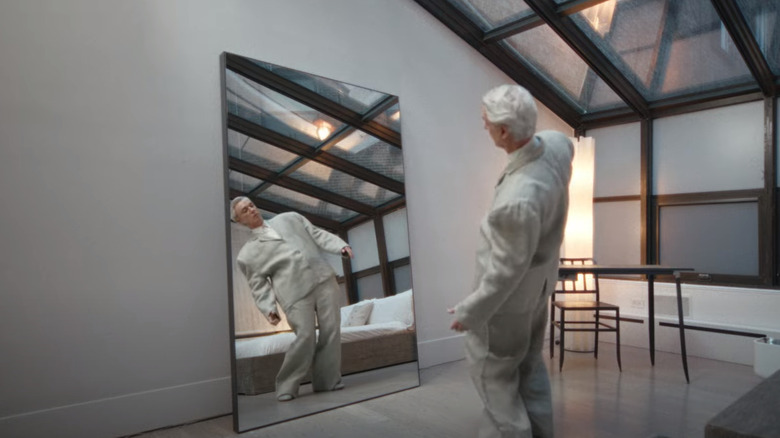 A24 released the news via a tweet with a cute little announcement video featuring David Byrne picking up the now-infamous giant suit from the dry cleaners, joking that it's been there for a long time. He takes it up to what we assume is his apartment, where he puts it on and starts doing one of the weird wiggly dances he did in the film. It's heartwarming to see Byrne back in the big suit, fresh off of his hot-dog-fingered performance at the Oscars. While Byrne has been plenty busy, creating music for everything from "Everything Everywhere All At Once" to "John Mulaney's Sack Lunch Bunch," fans haven't seen or heard too much from the rest of Talking Heads in recent years, and it will feel good to see them all again, even if it's just in the old footage.
If the suit still fits… This year, we're bringing Jonathan Demme's groundbreaking 1984 Talking Heads concert film STOP MAKING SENSE (newly remastered in 4K!) back to theaters worldwide. #StopMakingSense2023 pic.twitter.com/Kh2Nevaf2X

— A24 (@A24) March 16, 2023
Talking Heads were kind of an anomaly in the early days of MTV, when musicians were starting to gain fame based on their appearances and antics as much as they were their musical prowess. Why? Because they were fairly mysterious and extremely weird. People dug Talking Heads songs, especially their big hit "Psycho Killer," but they didn't really know who Talking Heads were. "Stop Making Sense" tells us exactly who they are, as they would have told us themselves, and it's chock-full of absolute bangers to boot. A24 hasn't announced when exactly the film will be re-released in theaters (and then probably on Blu-ray), only that it's coming sometime this year.
This Must Be The Place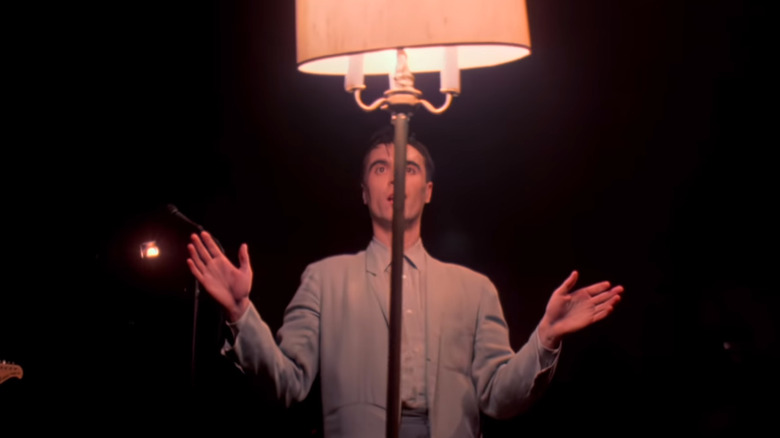 If you like Talking Heads at all, "Stop Making Sense" is a veritable buffet of their greatest hits, starting with David Byrne alone doing a version of their first big hit, "Psycho Killer," before more band members are added with each subsequent song. By the time we're near the end and on songs like "Take Me to the River," there's a full band and backup singers making the music as big and bold as it needs to be. Other than various band members and their instruments, a boom box, and a lamp, there really isn't anything else on stage, either, which is pretty starkly different from most modern concerts (which tend to be as full of visual elements on stage as possible). Instead, Byrne dances with said lamp, the musicians all dance and have a good time, and the whole thing feels significantly more personal.
"Stop Making Sense" features the songs "Heaven," "Burning Down the House," "Life During Wartime," "This Must Be the Place (Naive Melody)," "Once in a Lifetime," and "Girlfriend is Better," along with other Talking Heads hits and Tom Tom Club's "Genius of Love." (Tom Tom Club was originally a Talking Heads side project from drummer Chris Frantz and bassist Tina Weymouth, though they're still together and making music!) Even if you've never heard a Talking Heads song, now is your chance to discover one of the most inventive and fascinating bands of the 20th century.
Thank You For Sending Me An Angel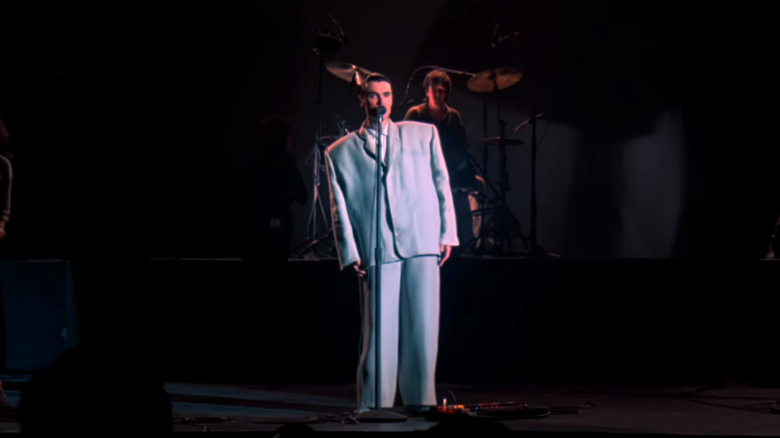 You might be asking yourself — why would someone who wasn't even born yet when "Stop Making Sense" was filmed get so darn excited for its theatrical re-release? Well, that reason exactly! I first discovered Talking Heads while riding in the car with my dad, who was shocked that I had never heard them before when I pronounced that "Psycho Killer" was "pretty great." He bought me their greatest hits CD that day and I played it so much that it eventually stopped working. Talking Heads are a pretty singular music group that doesn't sound like anything else that's ever existed, and "Stop Making Sense" is the perfect encapsulation of why they rule.
Whether you're an old-school Talking Heads fan, a fresh convert who discovered them because of David Byrne's recent appearances all over the place, or you just like music and movies, make sure to check out "Stop Making Sense" when it gets back in theaters. After all, it just makes sense.
Read this next: Every Martin Scorsese Feature Ranked From Worst To Best
The post Stop Making Sense is Returning to Theaters, and It's the Best Concert Movie Ever Made appeared first on /Film.