Source: UPROXX
Published and curated from UPROXX Read More
As kids, we were often told by grown-ups not to follow the crowd. "Do your own thing," they'd say. "Be like you, not them." I remember being an upset teen, mad because I couldn't do something my friends' parents let them do, and my mother would haughtily reply, "If so-and-so jumps off a bridge, are you going to jump too?"
She was right, but sometimes the mood calls for herd mentality – like when you want a bottle of something red and delicious delivered to your door pronto and you don't want to waste time asking that age-old question, "What unique and little-explored brand am I going to drink tonight?" It's times like these when it can be intriguing to open up Drizly's app and follow the masses by purchasing one (or all) of the 10 best-selling red wines featured on the site.
After all, if they're the most-sold wines, that must mean the wine is good, right? Short answer: Kinda.
It's important to remember that the taste of wine is entirely subjective. And "best-selling" only takes you so far — whether you're in the mood for something light, medium, or full-bodied significantly determines how much you'll enjoy what you're drinking. That said, most of Drizly's top-selling wines are pretty solid and are enjoyed by wine lovers of all levels.
As for the ranking, these wines were all judged primarily on taste but there's no denying that quality – in terms of grapes, winemaking techniques, production, and location, among several other factors– can uplift a wine's overall profile. As a WSET-certified wine professional who has written about and tasted thousands of wines, I promise not to steer you wrong. One last thing to keep in mind: The prices listed below reflect Drizly's inventory and pricing in New York City. Prices and availability will vary depending on your location.
10. Apothic Red

$12.09

(#9 on Drizly)

The Wine:

Zinfandel, Syrah, Merlot, and Cabernet Sauvignon grapes from areas of Lodi and California's Central Valley are used to make this wine. Apothic winemakers use a combination of cone-sweep and vertical tanks to ferment the wine for four to six days with a sharp eye on temperature control to ensure maximum extraction of color and dark fruit nuances.

Tasting Notes:

Nose: The aroma is dark, fruity, and layered with hints of blueberry, blackberry, black cherry, and black pepper.

Palate: This medium-to-full-bodied wine is as soft as a pillow, exuding flavors of ripe and concentrated red, black, and blue fruit mellowed out by plush tannins— the naturally occurring polyphenol in plants, seeds, leaves, and fruit skins that influence a wine's astringency, or more simply put, the agent that aids in a wine's dryness.
Finish: The finish is smooth and lingers with vanilla and coca spice notes.

Bottom Line:

This is a great intro wine for those who are new in their journey. It's not the best on the list but a nice primer!
9. 19 Crimes Snoop Dogg Cali Red (#7 on Drizly)

ABV: 14.1

Average Price: $13.99

Snoop Dogg collaborated with Australian winery 19 Crimes to create this California red blend. It's made with 65% Petite Sirah,30% Zinfandel, and 5% Merlot grapes from the Lodi region. However, the company hasn't shared many other winemaking details than that.

Tasting Notes:

Nose: The aromas of this wine display ample blueberry, blackberry, and cherry characteristics but faint hints of toasted oak and soft candied fruit chews play around in the background.

Palate: This is a full-bodied fruit bomb of blackberry and blueberry with a touch of candied cherry. Oak presents itself mid-palate along with refined tannins, but there's not much structure.
Finish: The wine feels smooth and round in the mouth and goes down like juice with a delicate sweet-tasting finish.

Bottom Line:

It's a nice, fruity wine, and a particularly easy glass to drink despite the high alcohol. But there's not much more going on than that.
8. Bota Box Cabernet Sauvignon (#10 on Drizly)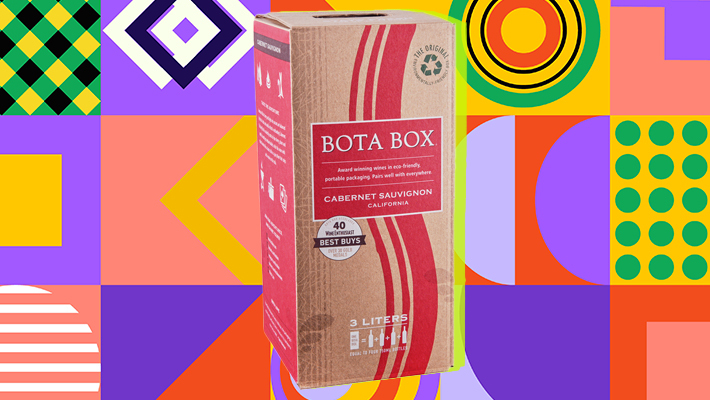 ABV: 13%

Average Price: $12.99

Here's a crowd-pleasing wine that comes in a box. Made with Cabernet Sauvignon grapes in California, this is a no-fuss bold red wine perfect for serving a large group. The standard-sized box contains about four 750ml bottles of wine that can last up to 30 days after opening.

Tasting Notes:
Nose: This wine smells like black cherry and blackberry pie, sprinkled with peppercorn and decorated with violet garnishes.
Palate: Similar to its aroma, this wine is loaded with jammy dark fruit on the palate. It's not all juice — the grippy tannins and acidity give it a backbone.
Finish: The finish is delicate with hints of spice.

Bottom Line:

For a boxed wine, this Cabernet Sauvignon is pretty solid. It has the classic dark fruit and spicy flavors the variety is loved for, and you get quite a lot for a small price. This is the way to go if you're throwing a party and need to keep cups full.
7. The Prisoner Red Blend (#6 on Drizly)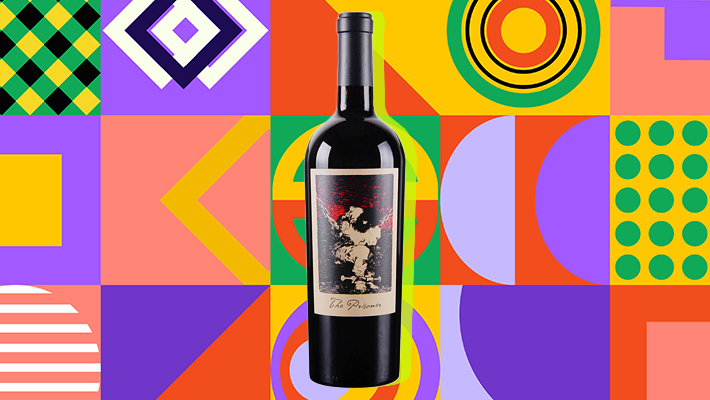 ABV: 15.2%

Average Price: $54.98

This blend of Zinfandel, Cabernet Sauvignon, Petite Syrah, Syrah, and Charbono hails from Napa Valley. It's unclear how long the wine rests before bottling, but The Prisoner uses both French and American oak to drive the flavor of the wine. If you're curious about the name, know it's inspired by Francisco Goya's 19th-century etching, Le Petit Prisonnier, which means, "custody is as barbaric as the crime." It's a pretty fitting name for a winery all about bringing awareness and action to prison reform.
Outside of winemaking, the folks at The Prisoner have created, supported, and donated to several initiatives aimed at incarceration reform.

Tasting Notes:

Nose: Cherry. Chocolate. And clove.

Palate: This is a full-bodied wine that still manages to be smooth, round, and almost juicy in the mouth. Flavors of raspberry and pomegranate are noticeable, but boy, is it awash with vanilla and oak.
Finish: Dusty tannins provide some structure, while the lingering finish wraps up with a hint of spice.

Bottom Line:
This is a tasty red blend, don't get me wrong. Almost anyone would enjoy a glass of this during a special dinner with family and friends, but it's not worth the price for a right-now wine when there are so many outstanding bottles available for less. When you're shelling out more than $50 for a bottle, it better be highly complex and can age for multiple years.
6. Meiomi Pinot Noir

(#2 on Drizly)
ABV: 13.5%
Average Price: $22.99

The Wine:
For a lighter style of red wine, look to Meiomi's bright and juicy Pinot Noir. The fruit comes from vineyards across California's wine regions and is aged in French oak barrels for six months before bottling.
Tasting Notes:
Nose: This wine smells like a basket of ripe red berries muddled into a sweet and fruity jam. There's no escaping the strawberry aromas, but there's more than just fruit on the nose. The wine displays aromas of mocha and oak as well.
Palate: This is as easy drinking as it gets. This Pinot Noir glides down the throat with lush strawberry jam and dark berry flavor with hints of cocoa spice.
Finish: Barely-there tannins lead to a relatively smooth and supple mouthfeel, while the high acidity makes for a mouthwatering finish drenched with berry flavor.
Bottom Line:
This easy-drinking, fruit-forward Pinot Noir is as good and simple as. If that's what you're looking for in a wine, Meiomi's Pinot Noir will get the job done.
5. JUSTIN Cabernet Sauvignon (#8 on Drizly)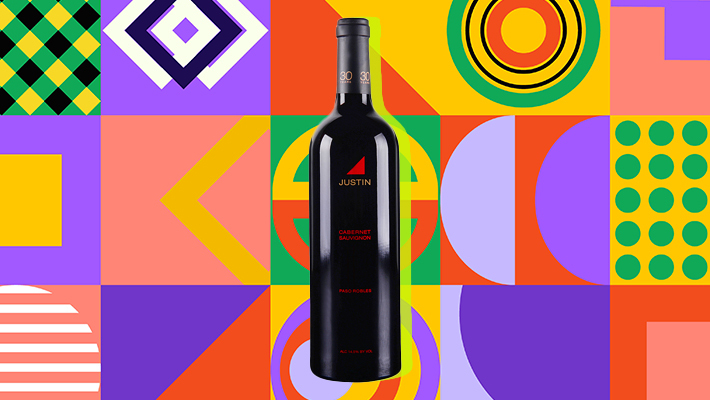 ABV: 15%

Average Price: $29.99

Produced in Paso Robles, California, this wine is big on all fronts. Cabernet Sauvignon is the only grape used for this wine, and after 14 months in oak barrels, you get a bright, ruby, and luscious red wine balanced with taste and texture.
Tasting Notes:

Nose: This red wine has all the classic features of a California Cabernet. It's highly aromatic with flavors of ripe black cherry, black and red berries, toasted oak, and all the baking spices in grandmother's cabinet. As the wine opens up, fragrances of dried rose petals and herbs like sage and tarragon begin to shine through.

Palate: Like most Cabernets, JUSTIN leans on the full-bodied side. However, with such fine and well-integrated tannins, this may feel a bit more easy drinking as it goes down. The wine displays plenty of dark fruit flavors like red plum, cherry, and blackberry but when it hits mid-palate, those savory notes of baking spices, dried herbs, and oak come alive.
Finish: It's a complex mix of fruit and spice with an extended finish.
Bottom Line:
This is good wine meant for drinking right here, right now. Pop it open on a Tuesday night with your Trader Joe's microwave dinner and feast like royalty.

4. Caymus Vineyards Napa Valley Cabernet Sauvignon (#4 on Drizly)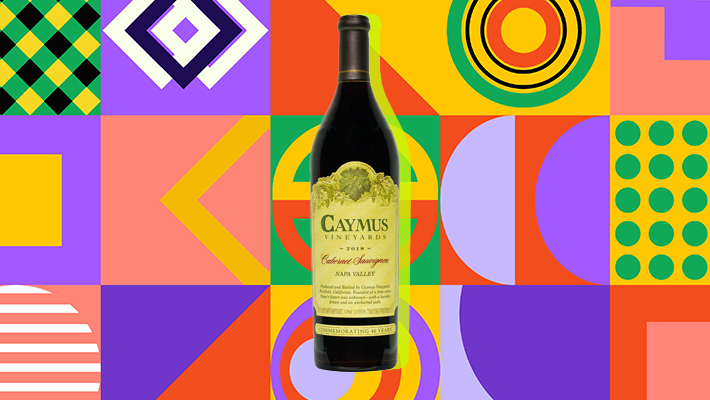 ABV: 14.5%

Average Price: $94.47
The Wine:
There is Cabernet Sauvignon, and then there is Caymus Vineyards' Cabernet Sauvignon. One of Napa Valley's leading producers since its founding in 1972, Caymus pumps out wines that have won the adoration of wine critics, sommeliers, and collectors year after year. Their latest 2020 vintage comes from Caymus vineyards across eight different Napa sub-appellations, resulting in its signature dark color and style.

Tasting Notes:

Nose: The nose is booming with rich aromas of dark, ripe fruit, cassis, and cocoa. The scents of black cherry, blackberry, and plum are immediate, but as the wine continues to open up, savory aromas of black licorice, Christmas spices, truffle shavings, tilled earth, and chocolate come into view.

Palate: The full-bodied wine is lush, big, and bold on the palate. And it tastes just how it smells — perhaps even better. Nuances of dark, ripe fruits, spices, and earthy goodness reveal themselves in layers.
Finish: Plush tannins and balanced acidity lead to a finish that seems to last forever and ever.

Bottom Line:
This is not a weeknight wine — unless you're balling out of control, then hey, do you! But if you're like me and can't drop nearly $100 on a bottle at any given moment, Caymus' Cabernet Sauvignon makes a lovely investment wine. This is a collector wine meant for aging, and it's likely to taste better when opened in 10 years or even longer. If a wine is well-crafted with enough complexity to stand the test of time, the price becomes a lot more justifiable.
3. La Crema Sonoma Coast Pinot Noir

(#5 on Drizly)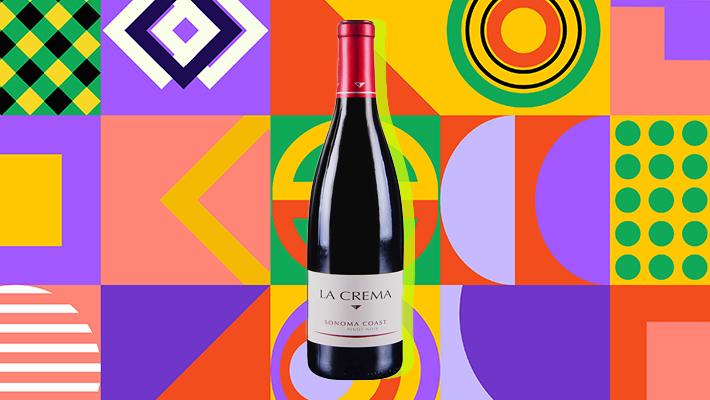 ABV: 13.9
Average Price: $25.29
The Wine:
Made with Pinot Noir grapes from the cool-climate Sonoma Coast, this wine has a noticeable freshness felt at first sip. It's aged in oak barrels for six months before bottling.

Tasting Notes:
Nose: Alluring aromas of fresh-picked raspberry, blackberry, and red cherry set the vibe, along with hints of cocoa, espresso, and tobacco.
Palate: Sure, this is a lighter style of wine, but it's big on flavor. This Pinot Noir oozes with berry flavors, but the spice nuances and fine tannins give it an undeniable edge.
Finish: Fresh acidity drives the finish, which lingers long after the wine is gone.
Bottom Line:
Just because a wine is lighter in style doesn't mean it has to lack flavor, and La Crema's Pinot Noir proves that.
2. Josh Cellars Cabernet Sauvignon

(#1 on Drizly)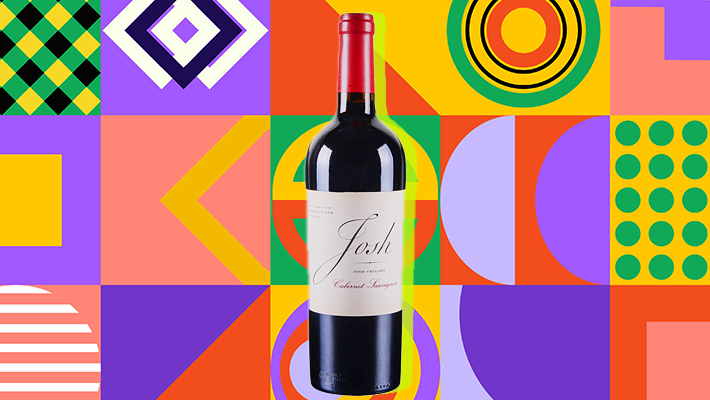 ABV: 13.5%
Average Price: $16.49
The Wine:
Now here is an award-winning Cabernet Sauvignon from the folks at Josh Cellars, a California winery established in Napa Valley in 2001. Made entirely of Cabernet Sauvignon grapes, this wine has long been a hit with drinkers who have come to love its signature taste and affordable price. It's unclear how long the wine is aged, but the toasted oak aromas and flavors make it pretty obvious there's some oak aging during the winemaking process.
Tasting Notes:
Nose: This highly aromatic wine displays berry flavors on the nose. You can't miss the fragrances of blackberry, blueberry, and dark cherry wafting from the glass. And the wine certainly isn't lacking in any spice notes. Toasted hazelnut, cinnamon, spiced oak, and vanilla bean — it's all in the aroma.
Palate: This Cabernet Sauvignon leaves the mouth full of dark fruit flavors and spice.
Finish: A full-bodied, dry wine with velvety tannins that gives the wine some structure while acidity leads to a round and juicy, long-lasting finish.
Bottom Line:
This is a no-fuss Cabernet Sauvignon with reliable taste and texture. Rarely will you find a bottle of Josh's Cabernet Sauvignon that doesn't taste like every other bottle of Josh Cabernet Sauvignon, vintage after vintage. It's the perfect weeknight wine for those nights when you're super exhausted and don't want to think too hard about what to pair with dinner.
1. Decoy Cabernet Sauvignon

(#3 on Drizly)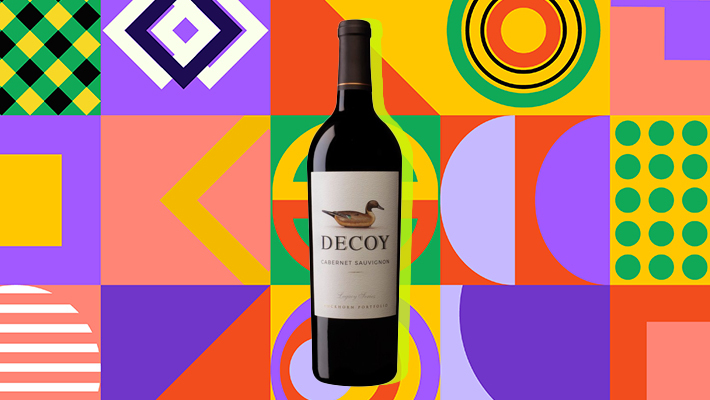 ABV: 13.9%
Average Price: $22.99

The Wine:
Red wine has been at the heart of Decoy's winemaking program since the winery launched in the Alexander Valley region of Sonoma County in 1985. Though Cabernet Sauvignon is the main variety in this wine, a splash of Merlot about 10 percent is included to accentuate the wine's flavor and texture. Decoy sources grapes for this wine from specific vineyards across California, including Monterey County, Paso Robles, Southern San Luis Obispo, and Santa Barbara County. This wine is aged in 40% new French oak for 15 months before bottling.
Tasting Notes:
Nose: Aromas of black cherry pie and plum tarts spill from the bottle quite generously once that cork pops. After a few swirls, the wine exudes more alluring spicy flavors of oak, vanilla, nutmeg, and cardamom.
Palate: Dark fruits like blackberry, cherry, and purple plum are noticeable at first sip, while a crescendo of spices and leather peaks mid-palate. The full-bodied and dry wine has a silky mouthfeel thanks to a balance of juicy acidity and plush tannins.
Finish: The finish is long and satisfying.
Bottom Line:
This is a complex and quality wine that drinks well above its price point. The wine has plenty of flavors and a long finish that begs you to take another sip. Not to mention it's the perfect pairing partner for those hearty dinners and weeknight comfort foods. What's not to love about that?