Source: SlashFilm
Published and curated from SlashFilm Read More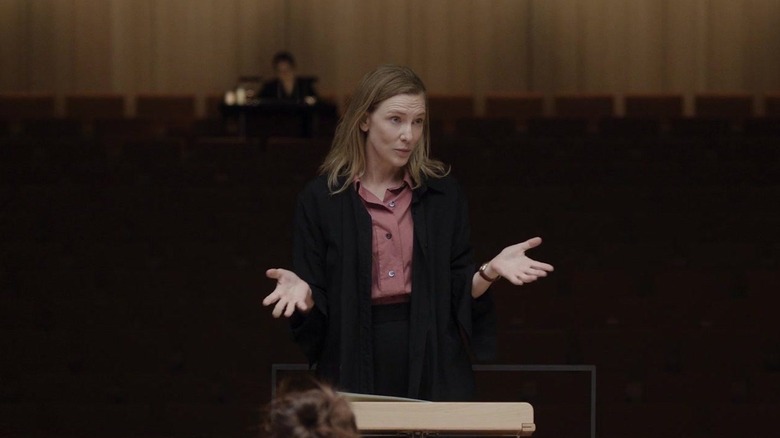 I'm very amused that some people mistake "TÁR" for a biopic. It's surprising how many people have seemingly thought this, as one would think we would have heard about this woman prior to seeing this movie. However, I think this is a testament to writer/director Todd Field and actor Cate Blanchett for being able to craft such a densely layered character that her complexities, contradictions, and lived-in history could only come from a real source. Character studies this thorough and messy used to be a staple of American filmmaking, particularly in the New Hollywood era, but today, movies rarely afford the opportunity for a film to go so deep on one person, as these stories have mostly been shuffled off to television.
One thing that struck me about the stated biography of Blanchett's Lydia Tár was that the conductor/composer was an EGOT winner, meaning she had won an Emmy, Grammy, Oscar, and Tony Award for her work. In real life, only 17 people have been able to accumulate all four awards over their careers. Of those 17, six of them are folks who work exclusively in music composition and arrangement. Music is an art form that can be of use across different mediums, and it makes sense why they would take up about a third of the EGOT recipients.
When we learned that she was an EGOT, my mind started to race about what projects would have brought her acclaim. Because Lydia Tár is such a detailed character, I assumed Todd Field was fully aware of what she would have won each of these awards for. And he does, though he'd rather play a little coy about it. However, that didn't stop The New Yorker from getting at least a few answers out of him.
The Emmy
When looking at real EGOTs, the Emmy is always the weirdest one. Take, for instance, Audrey Hepburn. The Hollywood legend took home her Emmy in 1993 for Outstanding Individual Achievement, Informational Programming for her PBS documentary series "Gardens of the World with Audrey Hepburn." So, what could Lydia Tár have possibly won her Emmy for?
My first inclination was that she won her Emmy for "Outstanding Music Direction," perhaps for one-year of music directing "The Kennedy Center Honors" or a "Live from Lincoln Center" concert performance. This was how real-life EGOT, legendary orchestrator and music director Jonathan Tunick, won his Emmy. However, I may be somewhat off-base about my assumption. In The New Yorker profile, the writer posits that Tár won her Emmy for producing an "American Masters" documentary about her hero Leonard Bernstein. Todd Field doesn't confirm this to be true, but certainly throws out the possibility of that being the case.
"That would have been something she would have really embraced, to shore up her legacy story. It would be good for the Bernstein estate to let her lie about her association with Leonard Bernstein, even if she maybe never even studied with him, because the optics of that association would be very, very good, given that she's a woman, given how Lenny's life ended."
Someone with Tár's ego certainly could have made a celebration of her hero that ultimately turns out to be a celebration of herself. That definitely tracks with what we know about that character. That being said, her entire world revolves around music, be it writing, arranging, or conducting it, and I think all of her awards are a result of that work.
The Grammy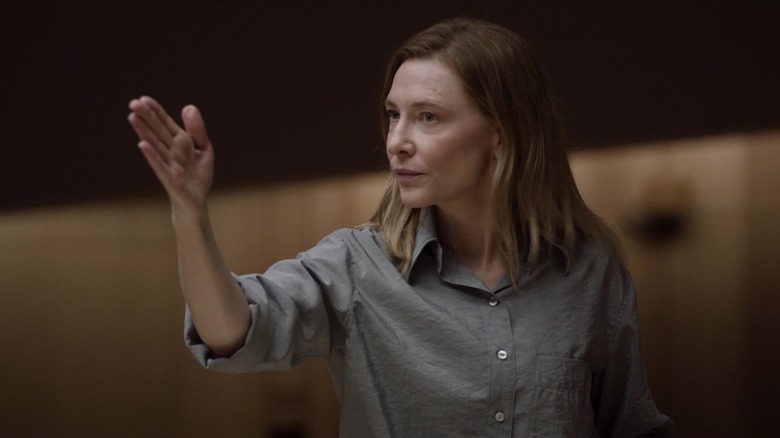 As for the Grammy, this is obviously the easiest one. After all, this is an awards show for music, and they have an entire section of categories dedicated to classical music. Because the story of "TÁR" partially concerns her desire to conduct and record a performance of Gustav Mahler's Fifth Symphony, which would be the last of his nine completed symphonies for her to record, my thought was that her Grammy possibly came from a recording of another of them.
I was way off on that one, which surprised me. Todd Field sees her Grammy as coming much earlier in her career before she had really been consumed with the canonical masters of classical music that she desires to hold up in "TÁR." He explains:
"Well, if I look at her trajectory, her first Big Five orchestra appointment would have been with Cleveland, and she was combining composers of the canon with what would have been very cutting-edge, young, female composers … So I imagine that she got her Grammy for probably a recording that she had composed, or a recording that she had made with maybe Caroline Shaw or Hildur Guðnadóttir or somebody like that, back in the day. Something that is far afield from what she's doing right now."
This is a sign that Field has such a complete grasp on who Lydia Tár is, where the here and now of her character is not the way she has always existed. I like that Tár was once concerned with uplifting underrepresented voices, and age, experience, ego, and environment washed that away. Of course, being an EGOT doesn't mean she just has one Grammy. She very well could have won for that early work and the later, more traditional stuff too.
The Oscar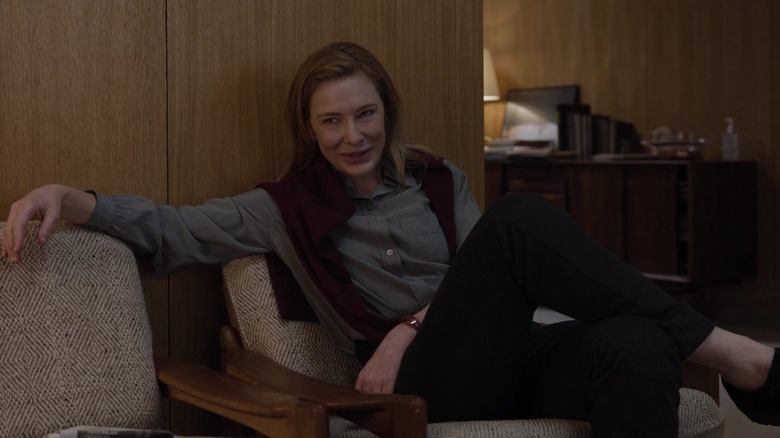 In terms of the category, there is no question as to what Lydia Tár's Oscar is for. The only question is what kind of film would she have won Best Original Score for. We aren't exposed to much of her writing in "TÁR," but we can infer that her sound is somewhat unusual and experimental, which isn't exactly what the Academy tends to go for. However, they will if the composer behind it has built up enough of a brand for them to be seen as a visionary. Lydia Tár definitely fits in that mold, and the obvious parallel regarding film scoring there is Philip Glass.
Though he has never actually won an Oscar, it seems Glass was certainly a figure Todd Field was thinking about when thinking about Tár's Oscar, drawing a direct parallel to Glass' second nomination for "The Hours":
"It would have been something like 'The Hours,' … And part of the drama around it was that Scott Rudin and Harvey Weinstein were having a massive fight over Tár's score. And there were lines hurled by Scott Rudin like, 'It's Philip Glass all over again!'"
Field has had his own dealings with Weinstein in the past with his debut feature "In the Bedroom," so recalling him and the Miramax era of the early 2000s was probably quite easy for him to do. Though it isn't a Weinstein or Rudin movie, I could see an alternate world where Lydia Tár scores a film like "The Constant Gardener."
The Tony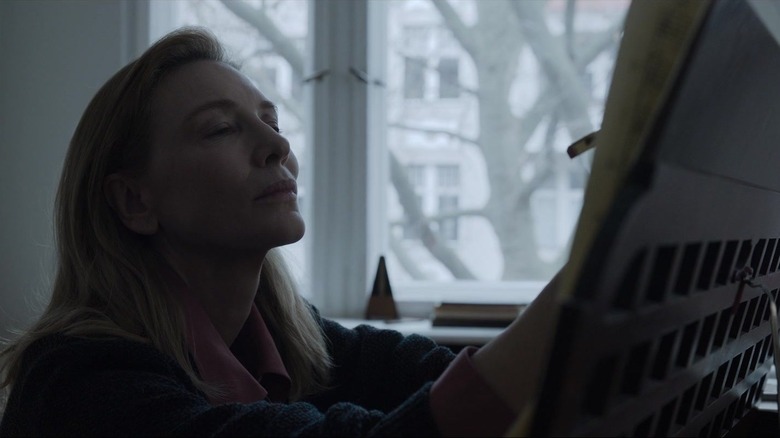 The Tony Award also seems like a fairly obvious win, right? But you think about it for a few minutes and go, "I don't see Lydia Tár writing a Broadway musical." Sure, her hero Leonard Bernstein made his way into the musical theatre world a number of times, most notably with "West Side Story," but I don't see Tár approaching music that way, especially when she would need to collaborate with a lyricist. She doesn't seem like a co-writer.
I thought about her maybe winning Best Orchestrations, particularly early in her career. She takes the work of an up-and-coming composer and makes it ring beautifully in the theatre, or she's tasked with taking a classic piece of musical theatre and giving it a radical reinvention. However, my guess was off, and Michael Schulman from The New Yorker was right on. He posited the theory that she wins Best Original Score, not for a musical but for writing music for a straight play, perhaps directed by the experimental and fairly divisive Ivo van Hove. Todd Field had to admit, "Yeah. It's Ivo."
The only reason I question this pathway is that only one non-musical in the history of the Tony Awards has ever won this award, and that was for an adaptation of "A Christmas Carol" in 2020, which also happens to be the only year that no musical was even nominated thanks to the pandemic altering openings. While it would be a fun biography if Lydia Tár won her Tony for a non-musical score in a fluke year, that doesn't really ring true to me. I can see her nominated for this score, sure. But not a win. But Todd Field knows better than me. Who am I to question?
Read this next: The Best Movies Of 2022
The post Todd Field Reveals How Lydia Tar Got (Most Of) The Awards In Her EGOT appeared first on /Film.