Source: SlashFilm
Published and curated from SlashFilm Read More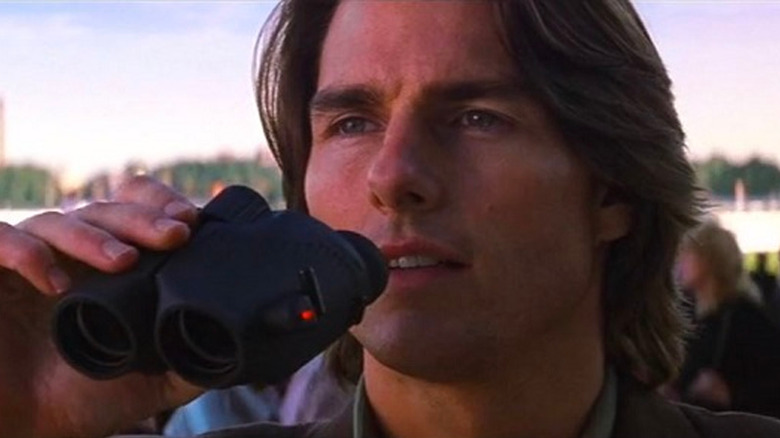 The later "Mission: Impossible" films have worked hard to establish a cohesive tone for the franchise, and while they've pretty much succeeded, it's made earlier installments, like "Mission: Impossible II," stick out like a sore thumb. The second "Mission Impossible" movie is the uncontested black sheep of the Ethan Hunt saga. With a style that pulls frequently from director John Woo's bag of tricks — Doves! Explosions! Slow-mo! Wind machines! — and a conflict lifted straight from a Hitchcockian noir, it's in direct contrast with the rest of the franchise. Even compared to its predecessor, directed with bombastic precision by Brian de Palma, "Mission: Impossible II" feels like a wild pendulum swing in the other direction — and into an entirely unique realm of action cinema.
20-plus years ago, however, that was exactly the idea. Star and producer Tom Cruise was pretty darn conscious about avoiding a sophomore slump, and more importantly, avoiding a retread of the one that started it all. To Cruise, the worst thing the sequel could do was offer more of the same, and his then-producing partner, Paula Wagner, agreed. "The thing is, how do you take a movie and make a second one that makes it unique?" Wagner explained at the time in a DVD extra for the film. "What's unique about it, what's different about it, what keeps the series going?"
A New Film — And New-Ish Hero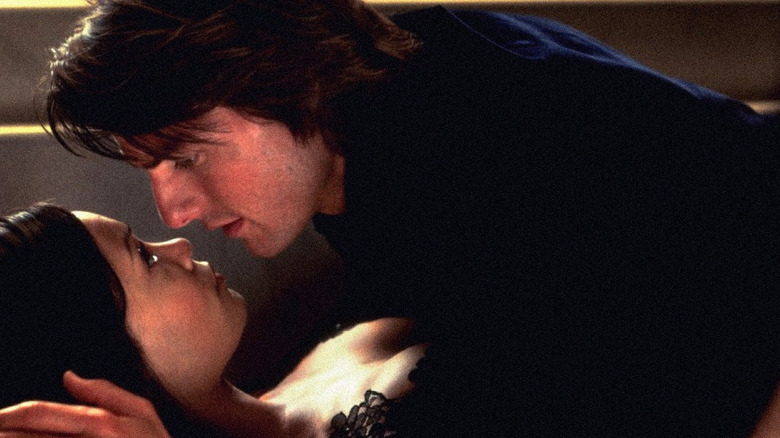 For Tom Cruise and Paula Wagner, propelling the "Mission: Impossible" story meant taking it in a specific direction, one that set it apart from their first adventure with De Palma. Cruise himself wasn't even approaching the sequel as a sequel. Instead, Cruise wanted the follow-up "to be able to stand on its own as a picture," as he said in the movie's DVD extra. That meant tapping a filmmaker with a unique style, and at the time, John Woo was just the person for the job.
Naturally, Woo had a few ideas about where "Mission: Impossible II" could go. The story by screenwriter Robert Towne had been built around the film's key action sequences, which left room for the director to play. "I was suggesting to make this character, and the whole movie, feel young and full of great energy," Woo explained in the same DVD extra. He wanted to "try to create a new kind of hero" out of Cruise's Ethan Hunt — and that essentially meant trying to reconstruct him in the image of a suave, swaggering James Bond type.
There's a reason why so much of "Mission: Impossible II" feels like a direct riff on Hitchcock's "Notorious," which featured Cary Grant as a hardboiled (yet irresistible) secret agent and remains famous for the smoldering chemistry between Grant and his co-star Ingrid Bergman. Grant's debonair persona left an indelible influence on the "Bond" films, and it influenced the "Mission: Impossible" braintrust in kind. In pairing Cruise off with Thandiwe Newton and borrowing the contentious love triangle at the center of "Notorious," Woo's sequel hoped to set Hunt up as a similar kind of heartthrob. Unfortunately, it didn't work — but Woo more than makes up for that with his grasp on operatic action.
'That's Why He's The Man'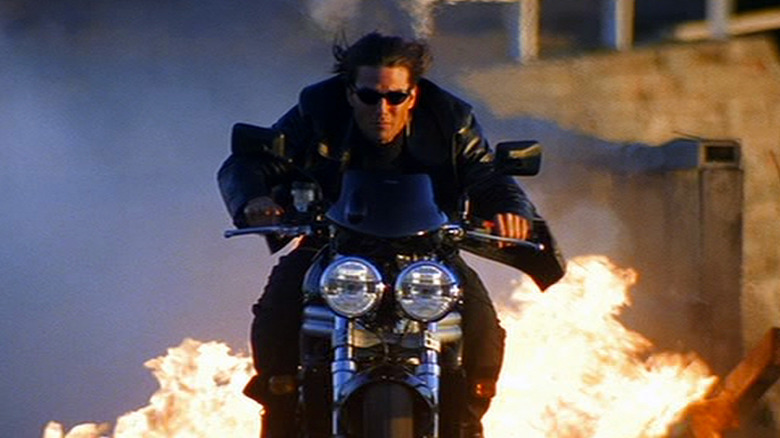 Say what you will about how "Mission: Impossible II" has aged today, but its action sequences — particularly in its juggernaut of a third act — live on in infamy for a reason. Sure, John Woo directs some sequences with a heavy hand, shooting motorcycle jousts from multiple angles with multiple cameras all running at different speeds. But that's what makes this particular installment so special and so unique. Given that the franchise was still wet behind the ears, Woo was allowed to put his stamp on its sequel in a way that didn't interfere with a preestablished style or tone.
You could argue that it spawned a crisis of identity, one that only began to resolve itself once Christopher McQuarrie came aboard with "Mission: Impossible — Ghost Protocol." But at the time, Woo's particular touch was just what the "Mission: Impossible" franchise needed. In the early 2000s, Woo's style was the cream of the crop for action cinema: Often imitated, never duplicated. "You see how his action movies have affected the American action films and different filmmakers that I think admire him or pay homage to him," Tom Cruise said in the DVD extra. "He has his own style, his own heart."
And that style was one of the key ingredients to the success of "Mission: Impossible II." The 2000 film was the highest-grossing film of the year, and — until "Mission: Impossible — Fallout" came along — the highest-grossing in the franchise, period. It may not have aged well compared to the other sequels, but without Woo, we may not have gotten any more sequels. To quote Cruise, "That's why he's the man. He's the Woo."
Read this next: 12 Awesome Action Movies That Never Got Sequels
The post Tom Cruise Wasn't Thinking In Terms Of Sequels While Making Mission: Impossible 2 appeared first on /Film.