Source: SlashFilm
Published and curated from SlashFilm Read More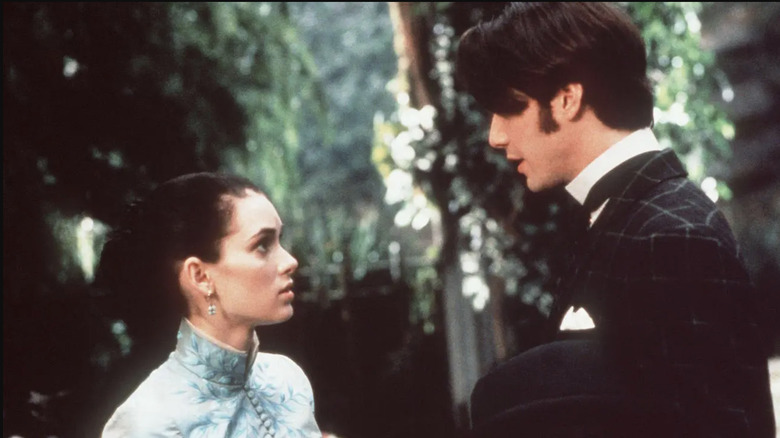 Is a Francis Ford Coppola film the work of genius, or madness? Depending on who you ask, it could be either — or both — but whatever it is, it's responsible for some of the most ambitious, exhilarating films of all time. Coppola is, without a doubt, best known for the "Godfather" triptych; though the series ended on a less-than-triumphant note, the director bounced back in a major way just two years later with "Bram Stoker's Dracula." The film was a critical and commercial success when it premiered in 1992 — and it likely never would have happened without an infamous missed connection during "The Godfather Part III." Before Sofia Coppola stepped up to play Mary Corleone (and to rather mixed effect), Winona Ryder was slated for the role. But after filming three movies back to back, Ryder suffered from "nervous exhaustion" and was forced to withdraw, paving the way for Coppola's brutally-panned performance.
Of course, there were no hard feelings between the director and the actress. Clearly, the two were open to working together on a different project, and just a few years later, "Dracula" became the perfect opportunity. It was Ryder who first came across the script, penned by James V. Hart, and Ryder who brought it to Coppola in the hopes of collaborating in earnest. Despite a fraught production, Ryder really did come away with a creative partnership that would last the rest of her career — but it wasn't necessarily with Coppola, or even with her co-star, Gary Oldman. Instead, it was Keanu Reeves, Ryder's secondary love interest, who kept her afloat on-set.
Angst, Angst, And More Angst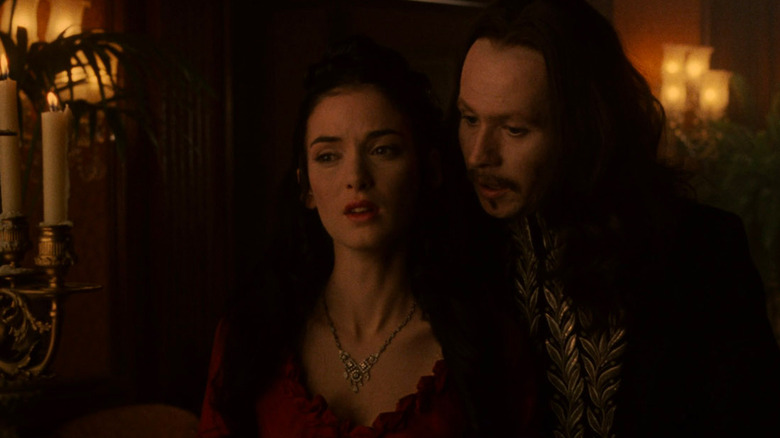 It's easy to see why someone like Keanu Reeves would inspire such admiration. He's one of the most beloved actors of his generation, and so many of his co-stars feel the same. "I just love being together with him so much," Winona Ryder told Vanity Fair in 2018 — and it's a love that began on the set of "Bram Stoker's Dracula." The actress was "always so happy" when Reeves was on set, "because there was so much, sort of, trauma" otherwise. Ryder even recovered a diary from her time on the "Dracula" set, with an entry that read: "angst, angst, angst, angst, thank God for Keanu. Thank God I'm going to see Keanu."
The process of filming "Dracula" was, clearly, a rough one for Ryder. While she and Gary Oldman (who played the titular bloodsucker) allegedly got along fine during rehearsals, things changed as production began. According to an unauthorized biography published at the time, their disparate acting styles were the main source of the friction. Oldman was unmistakably method: his role demanded emotional vulnerability, which he had to be ready to tap into at any moment. "Being emotionally on the brim can be very beneficial and also very destructive," Ryder said at the time. "He was just very emotionally on edge."
Ryder also acknowledged the difficulty of working from a more method-like approach — especially when it came to one scene in particular. Said scene involved Ryder's Mina in bed with Dracula, who promptly transforms into a host of rats. As the story goes, Ryder was meant to cry — and in order to encourage tears, Francis Ford Coppola resorted to shouting insults off-camera.
It Just Didn't Work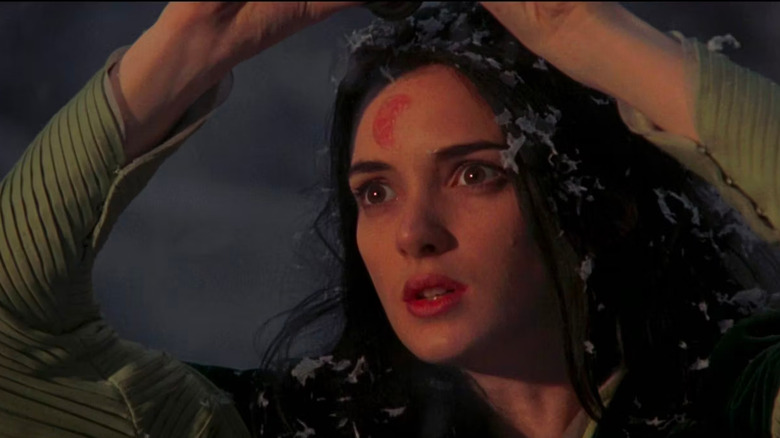 Francis Ford Coppola later denied ever shouting at Winona Ryder — or any of his actors, for that matter — and in 2020, Ryder herself corroborated that in her own way. "To put it in context I'm supposed to be crying," she told The Sunday Times. Rather than Coppola himself hurling insults at Ryder though, the director apparently instructed the off-screen actors to do so. "Literally, Richard E. Grant, Anthony Hopkins, Keanu … Francis was trying to get all of them to yell things that would make me cry." Keanu Reeves and Hopkins notably refused to participate, which rendered the tactic ineffective. "It just didn't work. I was, like, really? It kind of did the opposite."
Ryder made sure to add that, in spite of their creative differences, she and Coppola are "good now" — and while she and Gary Oldman never outright hated each other either, their tenuous rapport made things difficult when "Dracula" entered post-production. Coppola, with screenwriter James Hart, had the task of reworking the ending of the film. With a rewrite came reshoots, and reshoots meant that Ryder and Oldman would have to reunite, however briefly. "Do you think we can get Winona back to cut off Gary's head?" Hart recalled Coppola asking at the time. Hart's response speaks volumes of Ryder's working relationship with Oldman: "It's the only way you will get her back."
A Marriage Of Minds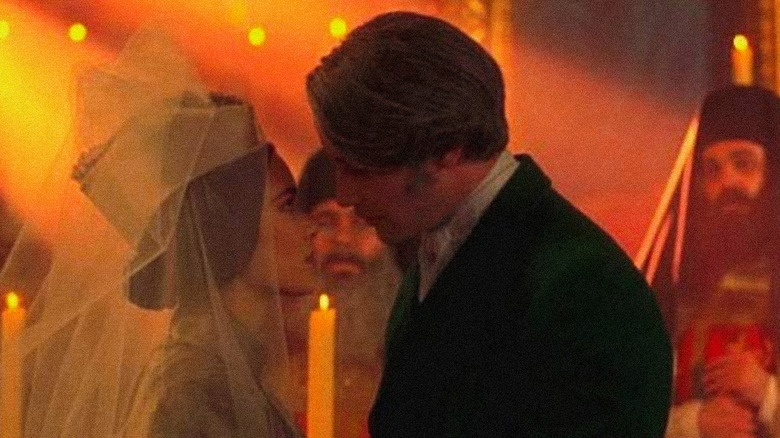 To work with Keanu Reeves again, however, Winona Ryder didn't need to be convinced. They've worked together on three films since, and are even keen to collaborate a few more times. The two actors also may or may not have been married for a few decades, given one scene they filmed together for "Dracula." In the film, Mina and Reeves' Jonathan Harker marry with the help of a Romanian priest, and Ryder maintains that said priest was not an actor, but a real officiant. "In that scene, Francis used a real Romanian priest," Ryder told Entertainment Weekly in 2018. "We shot the master [shot] and he did the whole thing. So I think we're married."
Since coming to that revelation, Ryder jokingly refers to Reeves as "her husband" from time to time, an endearing facet of their lifelong friendship. It's a bit of a shame that their relationship blossomed under such uncomfortable circumstances — but at least Ryder had someone to lean on through the process of filming "Dracula."
Read this next: The 15 Best Final Girls In Horror Movies Ranked
The post Winona Ryder Viewed Keanu Reeves As A Savior Of Sorts On The Bram Stoker's Dracula Set appeared first on /Film.